News story
New Chief of the General Staff announced
Her Majesty The Queen has approved the appointment of General Sir Peter Wall as the new Chief of the General Staff, it has been announced today, Thursday 29 July 2010.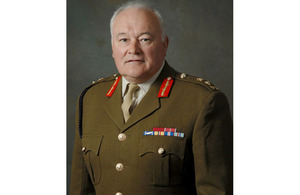 General Wall will take over from the current Chief of the General Staff, General Sir David Richards, in September this year.
Lieutenant General Sir Nick Parker, currently Deputy Commander International Security Assistance Force - Afghanistan, will take over from General Wall as Commander-in-Chief Land Forces, in the rank of General, in October this year.
The Secretary of State for Defence, Dr Liam Fox, said:
I'm absolutely delighted with both of these appointments. We're very lucky to have men of such high calibre at this time.
General Sir Peter Wall KCB CBE ADC Gen
General Sir Peter Wall (Late Corps of Royal Engineers) is currently Commander-in-Chief Land Forces.
Peter Wall was commissioned into the Royal Engineers (RE) in 1974 then read Engineering at Cambridge. His early service was spent in Belize and Rhodesia, in 'Cold War' Germany, as a platoon instructor at Sandhurst, and in Hong Kong.
He has commanded 9 Parachute Squadron RE, 32 Engineer Regiment in Hohne - including time in Bosnia, 16 Air Assault Brigade in the UK, the Joint Force Headquarters, and 1st (UK) Armoured Division in Iraq and Germany.
Staff posts have included Chief of Staff of 5 Airborne Brigade, a Military Adviser post in MOD, Project Manager in Abbey Wood, Chief of Staff of the UK National Contingent HQ for Op TELIC 1, and Deputy Chief of Joint Operations (Ops) in the Permanent Joint Headquarters.
In July 2009 he moved from Deputy Chief of the Defence Staff (Operations) in MOD to become Commander-in-Chief Land Forces in Wilton.
He is Chief Royal Engineer and president of Army rugby, Association Football, modern pentathlon and sport parachuting. Married to Fiona, they have two teenage sons, Alexander and Archie. He follows most sports and plays occasional games of golf and village cricket.
Lieutenant General Sir Nick Parker KCB CBE
Lieutenant General Sir Nick Parker (Late Royal Green Jackets) is currently Deputy Commander International Security Assistance Force - Afghanistan.
Nick Parker was commissioned in 1973. After early service in the infantry he commanded the 2nd Battalion The Royal Green Jackets from 1994 to 1995.
His staff training includes the Army Staff Course in 1986 and the Higher Command and Staff Course in 1996. He has held two staff appointments in the Ministry of Defence. He commanded 20th Armoured Brigade from 1997 to 1999 - this included some time in Bosnia, and he was General Officer Commanding (GOC) 2nd Division and Governor of Edinburgh Castle from 2002 to 2004. He has been both the Deputy Commandant (1999-2001) and the Commandant (2004-2005) of the Joint Staff College.
Recent operational tours include the commander of the UK Joint Task Force and advisor to the President of Sierra Leone in 2001 and Deputy Commanding General (UK) Multi-National Corps Iraq from August 2005 to February 2006.
He took over as GOC Northern Ireland in July 2006, UK Commander Regional Forces in August 2007 and took over as Deputy Commander ISAF in November 2009.
He is married to Beccy and has two sons. His interests include fishing and Coronation Street.
Published 29 July 2010