News story
Presentation slides from CDE Innovation Network event: 17 November 2016
The Centre for Defence Enterprise (CDE) held a networking event for science and technology providers in London on 17 November 2016.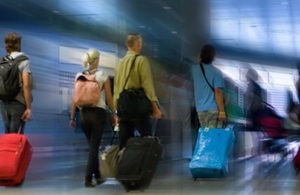 At the event at the Chelsea Harbour Hotel in London, details were provided on the Future Aviation Security Solutions (FASS) competition.
Jim Pennycook, Head of Operations at CDE, introduced CDE and give an overview of proof-of-concept research funding opportunities for innovative science and technology providers.
An overview of the FASS programme was provided by the Home Office and Department for Transport.
An overview was then provided about the Joint Security and Resilience Centre.
Specific information about the themed competition, which has up to £1 million available for fully funded phase 1 projects, was then provided. There are two technology challenges - screening of people and their hand luggage, and the screening of aviation cargo and hold luggage
View the presentation slides for the first challenge.
View the presentation slides for the second challenge.
Further detail about how the competition works was then provided.
Bruce Hardie, CDE Technology Manager briefed on what CDE is all about, our funding opportunities and how to work with us.
In addition, Bruce also talked about how to create a great CDE proposal.
Attendees were also able to book a face-to-face meeting with CDE and Home Office and Department for Transport subject matter experts to discuss potential proposals to the competition.
Published 23 November 2016