News story
Pregnant women to be offered whooping cough vaccination
Following a rise in the number of cases of whooping cough in young babies, the Chief Medical Officer, Professor Dame Sally Davies, has announced that pregnant women will be offered vaccinations to protect their newborn babies.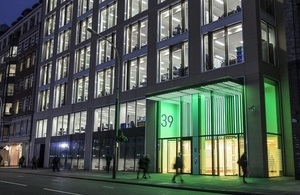 Chief Medical Officer, Dame Sally Davies, said:
Whooping cough is highly contagious and newborns are particularly vulnerable. 9  infants have died as a result of whooping cough this year and there have been 302 cases of the disease in children under 3 months old. It's vital that babies are protected from the day they are born - that's why we are offering the vaccine to all pregnant women.
Due to begin next week, the temporary vaccination programme aims to boost the short-term immunity passed on by pregnant women to their newborn babies who normally cannot be vaccinated themselves until they are 2 months old.
Professor David Salisbury, Director of Immunisation, said:
Over the last year we have seen a large rise in the number of whooping cough cases with the most serious cases being in children too young to be protected by routine vaccinations. The vaccine that we are offering to pregnant women has been recommended by experts and a similar vaccine is already given to pregnant women in the US. If you are pregnant, getting vaccinated is the best way you can protect your baby against whooping cough.
Watch David Salisbury explaining more about the programme.
The move comes as the latest figures, released today by the Health Protection Agency, show a large increase in cases in young infants:
in the first 8 months of this year, 302 cases were reported in infants under 12 weeks of age - more than double the 115 cases reported in the whole of 2011
there were 9 deaths of young children in the same period - up from 7 in the whole of 2011
from January to August this year, 4,791 cases in all ages were reported - 3 times more than the whole of 2011, which saw 1,118 cases
Joint Committee on Vaccination and Immunisation
The decision to introduce the temporary programme was made after the Joint Committee on Vaccination and Immunisation - the Government's independent vaccine experts - reviewed the available evidence and agreed that the vaccine should be offered to the approximate 650,000 women a year who are between 28 and 38 weeks of pregnancy.
The vaccine will be offered to pregnant women during routine antenatal appointments with a nurse, midwife or GP.
Even if women have previously been immunised they will be encouraged to be vaccinated again to boost their immunity, because this helps protect their babies before they can start their own immunisations.
The temporary programme, which starts next week, will be monitored by the Health Protection Agency and the Medicines and Healthcare products Regulatory Agency.
Published 28 September 2012