Press release
Poo pots: how do you fill them?
Poo is an important material used to test for diseases.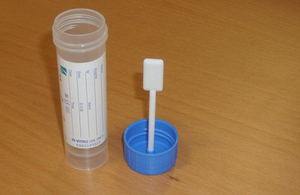 Thousands of people every year will be asked by their GP or other healthcare professional to give a stool (poo) sample for testing. A lot of people find the idea of this unpleasant and the pot is small so how do you fill it?
A team in Public Health England's (PHE) Primary Care Unit in the South West explored some of the barriers to people returning poo samples and have developed a leaflet which will be launched soon to show how it can be done easily and with minimum unpleasantness.
Poo is a very important material for doctors as it can be used to test for a wide range of diseases and conditions. These include salmonella, E.coli, cryptosporidium, campylobacter, and bowel cancer, to name a few.
The team interviewed 26 patients to ask them about their experiences of collecting a poo sample and the responses were analysed by theme.
The main barriers were seen as:
embarrassment
fear of the results
concerns about hygiene and contamination with taking the sample
discretion and privacy in the surgery when returning the sample
lack of information about how to collect it and most patients emphasised the need for a leaflet
The main reason people would give a sample, despite these barriers, was for personal benefit – they wanted to know the results.
Dr Cliodna McNulty, head of the Primary Care Unit, said:
Although most people think of poo as being disgusting it does have its uses and is the main way that doctors can test for gastro-intestinal infections and other bowel conditions like cancer. Lack of a sample can hinder diagnosis and so we need to encourage people to submit samples when they are asked to do so.

We realise that most people find collecting poo an unpleasant thing to do. However there are ways that doctors can help patients to feel confident to fill the pot in the easiest way possible. Without guidance some people did actually think they had to just poo directly into the pot which adds to their distress. We want to encourage healthcare staff to take time to explain the importance of the sample in the patient's treatment and to give our leaflet to help the collection process. Together these will help to increase the numbers of stool samples sent for testing which will help the patient's care.
Ends
Notes to editors
The NHS Choices guide to collecting a stool sample: Your GP or another healthcare professional such as a nurse should explain to you how to collect the stool sample. The stool sample should be collected in a clean, dry screw-top container. Your doctor or the hospital will provide you with a plastic (specimen) container to use, although you can use any clean container as long as you can seal it. Try not to collect urine or water (from the toilet) with the stool sample but don't worry if you do. If you need to urinate, do this first, and then collect the stool sample.
To collect a stool sample:

label the container with your name, date of birth and the date
place something in the toilet to catch the stool, such as a potty or an empty plastic food container, or spread clean newspaper or plastic wrap over the rim of the toilet
make sure the sample doesn't touch the inside of the toilet
use the spoon or spatula that comes with the container to place the sample in a clean screw-top container and screw the lid shut
if you've been given a container, aim to fill around a third of it (that's about the size of a walnut if you're using your own container)
put anything you used to collect the sample in a plastic bag, tie it up and put it the bin
wash your hands thoroughly with soap and warm running water

If your doctor gives you any other instructions, follow these also.
Bowel cancer screening consists of a home test kit known as a faecal occult blood (FOB) test. It works by detecting tiny amounts of blood which cannot normally be seen in poo. The FOB test does not diagnose bowel cancer, but the results will indicate whether further investigation (usually a colonoscopy) is needed. The risk of bowel cancer increases with age so it is important to return the sample if you are asked to give one by your doctor.
PHE exists to protect and improve the nation's health and wellbeing and reduce health inequalities. It does this through advocacy, partnerships, world-class science, knowledge and intelligence, and the delivery of specialist public health services. PHE is an operationally autonomous executive agency of the Department of Health. www.gov.uk/phe Follow us on Twitter @PHE_uk
Infections press office
PHE press office, infections
61 Colindale Avenue
London
NW9 5EQ
Published 17 September 2014