Political solution "the best way" for peace in Yemen says UK Special Envoy
Sir Alan Duncan comments on the crisis in Yemen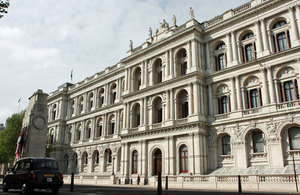 The UK Government Special Envoy to Yemen, Sir Alan Duncan, has visited Saudi Arabia, Oman and the UAE to demonstrate the UK's continued support for a political solution to the crisis in Yemen and urge for greater access for humanitarian aid and commercial goods. During the visit, from 16 to 21 September, Sir Alan met with the Yemeni Government, including President Hadi, Yemeni parties, and members of the Saudi Arabian, Omani and Emirati Governments.
Speaking in Abu Dhabi, the UK Government Special Envoy to Yemen said:
This is a critical time for Yemen, and the wider region. Millions of Yemenis are still living without access to food, water and basic services.

I have restated the UK's support for the Saudi-led Coalition, which has played a crucial role in reversing the military advance of the Houthis and forces loyal to former president Saleh and is helping create the conditions for the return of the legitimate Yemeni Government. I also underlined the importance of compliance by all sides with international humanitarian law.

A political solution remains the best way to bring long-term stability to Yemen, and all parties must get behind the UN political process to achieve a lasting ceasefire and peace for the people of Yemen.

The humanitarian situation remains dire, and the UK continues to call for all sides to allow unrestricted access for humanitarian aid and commercial goods, including through Yemen's Red Sea Ports. I welcome the humanitarian assistance already provided by Saudi Arabia and the UAE. The UK has provided £55 million to date for life-saving assistance to the most vulnerable.
Further information
Published 22 September 2015