News story
Polio vaccine recommendations updated for travellers from the UK
PHE and NaTHNaC have updated guidance following the World Health Organization (WHO) announcement on eradicating polio.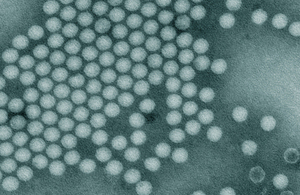 Public Health England (PHE) and the National Travel Health Network and Centre (NaTHNaC) have issued further advice for travellers from England, Wales and Northern Ireland who are visiting countries either currently exporting wild polio virus or countries known to be infected, but not exporting wild polio virus.
The recommendations take into account the recent WHO guidance for polio free countries (which include the UK) and consider implications for public health both nationally and internationally.
Dr Richard Pebody, polio expert at PHE said:
We are pleased to say that we have a longstanding strong routine polio vaccination programme in the UK. Indeed the UK, together with the rest of Europe, was declared polio-free over a decade ago.

We have strengthened our polio surveillance programme to monitor our elimination status. This includes recently enhancing surveillance and vaccination activities around migrants from the Middle East and East Africa following circulation of wild-polio in those regions. PHE also continues to work with the NHS to raise awareness about the current global risk and urges clinicians to maintain awareness for suspect cases returning from affected areas.

Travellers who intend to visit polio-exporting countries for 4 weeks or more should be aware that proof of polio vaccination, given 4 weeks to 12 months before departure from the country, may be required on exit. For those without such documentation, live oral polio vaccine will likely be given at the point of departure. Live oral polio vaccine is safe for most groups, except those who have suppressed immune systems or are pregnant.
Dr Mary Ramsay, head of immunisation at PHE said:
PHE together with NaTHNaC have updated the guidance on vaccination for long term visitors to infected countries. There are a small number of UK travellers who are at higher risk of exposure of poliovirus. This includes healthcare workers who could be in close proximity to patients with polio and also UK travellers visiting affected countries for 6 months or more.

PHE and NaTHNaC strongly urge travellers going to the affected countries for more than 6 months to visit their GP or travel clinic to ensure they have a booster dose of polio, if they had not received vaccination in the past 12 months.
Dr Dipti Patel, joint director at NaTHNaC said:
As of 23 September 2014, polio exporting countries are Cameroon, Equatorial Guinea, Pakistan and Syrian Arab Republic. We would strongly recommend travellers to refer to our polio vaccination information for specific countries of travel.
Poliomyelitis (polio) is a highly infectious vaccine preventable disease. It invades the nervous system, and can cause paralysis in a matter of hours. It can strike at any age, but affects mainly younger children. Most people infected with the poliovirus have no signs of illness; symptomless people can spread the infection to many others before the first case of polio paralysis emerges.
General information about polio is available on the PHE Migrant Health Guide.
Published 4 November 2014