News story
Policing Minister Damian Green on direct entry to police
Policing Minister Damian Green talks about new plans to allow direct entry to senior ranks of the police.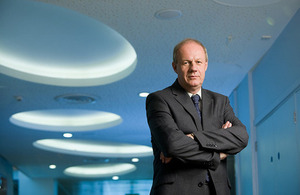 Industry modernisation in the 1990s brought an end to the closed shop – the practice of restricting membership of a trade or profession.

Closed shops brought disrepute to some sections of British industry, with people rejected from jobs because their face did not fit.

Today we bring to an end the policing version of the closed shop.

It is of course very different to the world of 1970s heavy industry where union barons dictated who could and could not work and took thousands of workers out on strike if their diktats were not adhered to.

But while policing has not been a closed shop in that sense, it has most certainly been a closed profession – closed to those who want to bring their skills and experience from the private (or public) sector, but who have reached a stage in their life and career when starting out again as through they were 18 is not appropriate.
Fall in crime
This country is fortunate to have a marvellous police force – one that has delivered a 10% fall in crime under this government despite the difficult, but essential, funding decisions we had to make.

As policing minister, I want to make it even better. By bringing modernisation into policing, we are shaping a crime fighting force fit for the future, which will be able to carry on delivering falling crime rates on behalf of the public.

And that is why we are introducing direct entry into policing. Critics will claim that you cannot possibly be a senior leader in policing without first serving your full time on the streets and in the lower ranks.

But think about what senior police leaders are required to do. They are required to make challenging decisions, often under intense pressure, while weighing the resources available to them to do the job. Those decisions can, at the extreme, be a matter of life and death in the police force, but these are clearly skills than can be transferred from other trades and professions.

Policing is already an attractive job – you can see that from the hundreds of applications for every job advertised. Direct entry will make it more attractive. And more attractive for a different type of candidate. This will open up policing to bright and talented people from all walks of life who are seeking a new challenge, and potentially a job that is much more satisfactory than the one they currently do.
Bright and talented
The new recruits who will come into policing will bring with them a freshness of approach and a new vitality. They will see old problems with new eyes and challenge the status quo of policing practice. I am sure they will come to the conclusion that much of what the police currently do they do very well. But sometimes they will not. Sometimes they will spot things that can be improved and bring vital new ideas into police work.

New recruits will also bring another key benefit. Many of the strengths of policing come from its sense of togetherness, from the close bonds built by officers and the sense of public service they share. But those strengths can, if care is not taken, become weaknesses. When a strong unit is already in place it can be hard for someone who looks or sounds different to feel they are part of the culture. And that must change.

The police have done better in recent years at recruiting women and those from black and minority ethnic backgrounds. But there is much still to do, not least in retaining talented officers once they have joined the force.
Direct entry
Direct entry has the potential to change that inward-looking culture, to make policing a more attractive profession for those with different backgrounds and who have skills and experience to share from careers elsewhere. And by speeding the process for talented officers at the grassroots we should see more able officers currently being lost to the force retained into the ranks of senior management.

The College of Policing will now be in charge of administering the direct entry programme and ensuring officers are given the vital operational skills and experience they will need to take their place at the senior ranks of policing. They have the remit to set standards and support the professional development of police officers and staff and the necessary expertise to implement the schemes. The College will also be able to draw on the evidence of what works.

Of course there will be those who say that because this is always the way it has been done that we cannot countenance change. I do not agree – 50 years ago it would have been almost unimaginable that there could be female chief constables and now there are six of them.

The police are already full of good, bright, enthusiastic people. This reform will make sure even more of the brightest and best join the police in the future.
Published 14 October 2013