Policing and Crime Bill receives Royal Assent
A key bill in the police reform agenda has today achieved Royal Assent.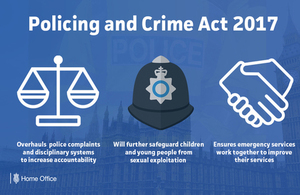 The government marked a major milestone in its police reform agenda today (Tuesday, 31 January) as the Policing and Crime Bill received Royal Assent.
The Policing and Crime Act 2017 will enhance the democratic accountability of police forces and fire and rescue services, improve the efficiency and effectiveness of emergency services through closer collaboration, and build public confidence in policing.
It will strengthen the protections for persons under investigation by, or who come into contact with, the police; ensure that the police and other law enforcement agencies have the powers they need to prevent, detect and investigate crime; and further safeguard children and young people from sexual exploitation.
Home Secretary Amber Rudd said:
This act is another major milestone in our far-reaching police reforms over recent years.

The measures in the act give greater protections for the vulnerable, ensure the police have the necessary powers to keep our communities safe, and overhaul the police complaints and disciplinary systems to increase accountability and improve police integrity.

We have also sought to ensure forces have the right people and skills to cope with the changing nature of crime, improve efficiency and effectiveness of our emergency services through greater collaboration and end the injustice of individuals spending extended periods on pre-charge bail.

I look forward to continuing to work with the police and stakeholders as the measures in the act are implemented.
The act includes provisions which will:
reform pre-charge bail to put a stop to people remaining on bail for lengthy periods with no independent judicial scrutiny of its continued necessity
better enable chief officers to make the most efficient and effective use of their workforce by giving them the flexibility to confer a wider range of powers on police staff and volunteers (whilst for the first time specifying a core list of powers that may only be exercised by warranted police officers) and conferring a power on the Home Secretary to specify police ranks in regulations, thereby affording the flexibility to introduce a flatter rank structure
place a new duty on police, fire and rescue and emergency ambulance services to collaborate where it is in the interests of their efficiency or effectiveness and enable police and crime commissioners (PCCs) to take on responsibility for the governance of fire and rescue services, where a local case is made
improve the response to those in mental health crisis - including stopping those under 18 from being detained in a police station - and restricting such detention for adults - by reforming police powers under sections 135 and 136 of the Mental Health Act 1983
reform the police disciplinary and complaints systems to ensure that the public have confidence in their ability to hold the police to account, and that police officers will uphold the highest standards of integrity
increase in the maximum sentence for stalking involving fear of violence from five to ten years' imprisonment
amend the Police and Criminal Evidence Act 1984 (PACE), including to ensure that 17-year-olds who are detained in police custody are treated as children for all purposes, and to facilitate the increased use of video link technology
amend the firearms acts to better protect the public by closing loopholes that can be exploited by criminals and terrorists, and by issuing statutory guidance to ensure that the robust processes we have in place for assessing suitability to hold a firearms certificate are applied consistently
confer pardons, subject to conditions, for individuals living or deceased who were convicted of now abolished gay sex offences
improve protection for victims of forced marriage and give them more confidence to come forward by providing them with lifelong anonymity
Minister for Policing and the Fire Service, Brandon Lewis, said:
Police reform is working and crimes traditionally measured by the survey have fallen by a third since 2010 to a record low.

I am delighted this act has now received Royal Assent and, in close collaboration with police and fire stakeholders, we will work hard to implement the act's provisions to further improve the effectiveness and accountability of our emergency services.
Published 31 January 2017