News story
PM to announce train companies' offer of discounted travel for reservists
Train companies are set to extend offer of Armed Forces travel discount scheme to tens of thousands of volunteer reservists.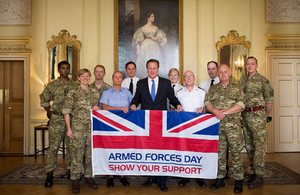 In Stirling to celebrate Armed Forces Day, the Prime Minister will welcome the deal signed between rail companies and the Ministry of Defence that will mean the HM Forces Railcard will now cover all active volunteer reservists, their spouses and children.
Available from next week, the railcard will save reservists a third off fares for family days out and trips to visit friends, meaning they get to enjoy time with loved ones for less.
The railway has been supporting the country's serving troops with the HM Forces Railcard for over 30 years. The HM Forces Railcard:
is currently used by 73,000 active members of the regular forces and mobilised reservists
saves holders over £143 each a year on average
was used to make 1.7 million rail journeys last year
is now used to make 25% more journeys a year compared to 5 years ago with Railcard holders now making 24 annual trips on average
With growing numbers of volunteer reserves supporting the country and working as part of a fully integrated force, train companies have worked closely with the Ministry of Defence to make the benefit available to all active troops.
Prime Minister David Cameron said:
It is fantastic that the railway has decided to extend the Forces Railcard to Reserves and their families. I know that the Forces Railcard is already a huge help to tens of thousands of hard-working troops around the country and this is a further recognition of the increasingly vital role our Reserves play in our Armed Forces.

There is a long-standing tradition of our railway supporting our Armed Forces and this is a way for them to recognise the sacrifices our forces make every day. I know the whole country will join me in recognising the debt we owe our troops this Armed Forces Day.
Michael Roberts, director general of the Rail Delivery Group which represents the railway, said:
For over 30 years the HM Forces Railcard has helped our Service men and women save money on rail travel, meaning they can get out and have fun with family and friends for less.

By extending the HM Forces Railcard to volunteer reservists for the first time, the railway recognises their vital contribution both to our Armed Forces and to protecting the nation.
Published 28 June 2014