PM meets with President Obama
Two leaders discuss key issues prior to G20 Summit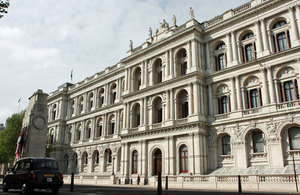 Prime Minister David Cameron and US President Barack Obama covered a number of key issues during their first one-to-one meeting held just prior to the start of the G20 Summit in Toronto.
The two leaders took time to discuss the situation in Afghanistan, the oil spill in the Gulf of Mexico, and the economic recovery.
The PM said:
"We are aiming at the same target, which is world growth and stability, but those countries with big deficits like ours have to take action in order to keep that level of confidence in the economy which is absolutely vital for growth."
President Obama added:
"We already have established a strong working relationship and we are confident that that special relationship is going to get stronger in the months and years to come."
The leaders didn't just talk about foreign affairs. Football was also on the agenda as the Prime Minister and President Obama exchanged bottles of beer, which settled a bet they made prior to the World Cup match between England and the USA. The leaders had agreed whoever backed the losing side would owe the other a beer.
Mr. Cameron also held talks with Chinese President Hu Jintao, Indian PM Manmohan Singh, and Japanese Prime Minister Naoto Kan.
Published 27 June 2010