Press release
PM meeting with former Maldives President Mohamed Nasheed
Prime Minister David Cameron welcomed former President of the Maldives, Mohamed Nasheed, to Downing Street this morning.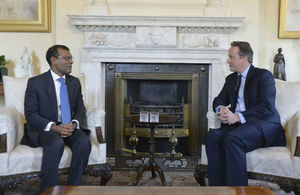 Following the meeting a Downing Street spokesperson said:
Following his release from prison, Mr Nasheed thanked the Prime Minister for the role the UK had played by continuing to raise his case, including with other countries at the recent Commonwealth Heads of Government meeting last November.

They agreed that while Mr Nasheed's release was a positive step, more needed to be done and it was important for the Maldivian government to maintain momentum, which was necessary if real change is to be delivered.

Looking ahead to the Commonwealth Ministerial Action Group visit to the Maldives next month, the Prime Minister and Mr Nasheed agreed this was an opportunity for all Commonwealth members to send a consistently strong message on the need for the Maldivian government to engage in open political dialogue and free all remaining political prisoners swiftly.

Finally, the Prime Minister told Mr Nasheed that the UK would continue to raise concerns about the erosion of democracy and the wider situation in the Maldives and it would also continue to discuss the situation with international partners, including how best the international community can make its concerns clear to the Maldivian government.
Published 23 January 2016