Press release
PM meeting with European Commission President Juncker: 21 October 2016
Prime Minister Theresa May met with Jean-Claude Juncker, President of the European Commission, after the European Council meeting.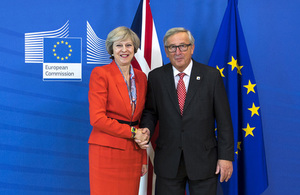 A Downing Street spokesperson said:
The Prime Minister had a bilateral meeting with the European Commission President Jean-Claude Juncker earlier today in Brussels following the conclusion of the European Council.

The Prime Minister reiterated her position that while the UK would be leaving the EU we would not be leaving Europe. She explained that we wanted to see a strong and stable EU after our departure and to be close partners.

The Prime Minister set out that the UK would be looking for a bespoke model rather than an 'off the shelf' solution. She explained that we would need to see controls on the numbers of people who come to Britain from Europe as well as a positive outcome for those who wish to trade in goods and services.

They agreed we should approach the Brexit negotiations in a positive and constructive spirit to ensure the process is as smooth and orderly as possible.
Published 21 October 2016