Press release
PM: Holocaust memorial will stand beside Parliament as permanent statement of our British values
Prime Minister David Cameron announced that the UK Holocaust memorial will be in Victoria Tower Gardens, next to the Houses of Parliament.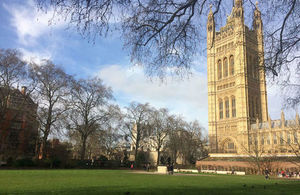 The Prime Minister David Cameron has today (27 January 2016) announced that the national memorial to the Holocaust will be built in the iconic Victoria Tower Gardens, next to the Houses of Parliament in Westminster.
The work to build a striking and prominent national memorial delivers one of the key recommendations of the Prime Minister's Holocaust Commission last year. It is being taken forward by the cross-party backed UK Holocaust Memorial Foundation (UKHMF), chaired by Sir Peter Bazalgette. Board members include Alex Salmond MP, Lord Andrew Feldman, Ed Balls and Liberal Democrat Peer Lord Alliance.
An international design competition will be launched in the coming weeks and the memorial will be built by the end of 2017. Plans for an associated world-class learning centre to challenge prejudice in all its forms, will also be announced in the coming months.
The Prime Minister's Holocaust Commission last year produced a report looking at how the country should ensure that the memory of the Holocaust is preserved and that the lessons it teachers are never forgotten. Along with a new National Memorial, its recommendations included a world class learning centre, a focus on promoting and furthering Holocaust education and a programme to record and preserve the testimony of Holocaust survivors.
Speaking at the start of Prime Minister's Questions today, Prime Minister David Cameron said:
I know the whole House will want to join me in marking Holocaust Memorial Day. It is right our whole country should stand together to remember the darkest hour of humanity. Last year, on the 70th anniversary of the liberation of Auschwitz, I said we would build a striking national memorial in London to show the importance Britain places on preserving the memory of the Holocaust.

Today I can tell the House this memorial will be built in Victoria Tower Gardens. It will stand beside Parliament as a permanent statement of our values as a nation and will be something for our children to visit for generations to come. I'm grateful to all those who have made this possible and who have given this work the cross-party status it so profoundly deserves.
Chair of the UK Holocaust Memorial Foundation, Sir Peter Bazalgette said:
The task of the Holocaust Memorial Foundation was to find a site that would allow a striking, prominent and iconic memorial to be built. There is nowhere better to achieve this than beside Parliament. I stood there with a Holocaust survivor earlier this week and I will never forget his reaction when I told him of our plans. It demonstrated how we are doing the right thing for Britain's Holocaust survivors in preserving the memory of humanity's darkest hour. But just as importantly, we're doing the right thing for our country by creating a permanent reminder of the need to fight hatred and prejudice in all its forms.
The Chief Rabbi said:
The historic announcement today, of the establishment of a permanent memorial to the Holocaust, next to Parliament, at the very heart of British democracy, will be warmly received by the Jewish community. Indeed, it sends the strongest possible message on behalf of the whole country, that the lessons of the Holocaust will forever form a part of our national consciousness and that the legacy of survivors will be secured for posterity.
Alex Salmond MP said:
It's absolutely right there should be a permanent and iconic national memorial next to Parliament. This should be a catalyst for further commemoration and education on the Holocaust across the whole of the United Kingdom. I'm proud to be involved with this work and hope that I will be able to add a particularly Scottish dimension to how the Holocaust is marked and remembered as part of the overall project.
Ed Balls said:
One year ago, the Prime Minister's Holocaust Commission called for a striking and prominent new national memorial. Today we begin to realise that ambition, pledging a truly iconic landmark in Westminster. It's so important that when children come to Parliament and learn about the history of our great democracy and all that we stand for as a nation, they will also be able to learn about and remember what happened when racism, antisemitism and hatred was left unchecked and allowed to flourish.
Karen Pollock, Chief Executive of Holocaust Educational Trust said:
Twenty eight years ago when the Holocaust Educational Trust was founded, we may have hoped but would never have believed that Holocaust education and commemoration would have become so firmly embedded in this country – this memorial, which will be right in the heart of our democracy, sends a clear message about the determination of Britain to ensure the legacy of the Holocaust for generations to come.

With education comes remembrance – this special place will give people somewhere to remember and reflect. When we no longer have survivors among us, this memorial will help to ensure that their experiences are never forgotten.
Olivia Marks-Woldman, Chief Executive of the Holocaust Memorial Day Trust, said:
The UK Holocaust Memorial Foundation shares our goal, to extend the reach and impact of Holocaust commemoration, in order to ensure that as a nation we never forget. Holocaust Memorial Day is the central focus for Holocaust remembrance in the UK and it is fitting that these announcements have been made today.

As we come together at over 3,600 events across the country, we have a chance to reflect on what has happened in the past and ensure we carry these lessons into a better future. A memorial in the heart of Westminster will add to the work already being done, and ensure a lasting commitment to Holocaust commemoration in the UK.
Communities Secretary Greg Clark said:
The new Holocaust memorial, at the heart of Westminster, will offer the nation the opportunity to pause and reflect, to ensure this and future generations learn the lessons of the atrocities that were perpetrated on humanity.

It will also be a constant reminder of the need to challenge hatred wherever and whenever it occurs, to help ensure it can never happen again.
Notes to editors
the UK Holocaust Memorial Foundation was set up by Prime Minister David Cameron with cross party support in January 2015 to deliver the recommendations of the Prime Minister's Holocaust Commission: for a national memorial to the Holocaust, a world-class learning centre, an endowment fund to advance Holocaust education and an urgent programme to record British Holocaust survivor and camp liberator testimony
read the full report of the Prime Minister's Holocaust Commission: Britain's Promise to Remember.
the full UKHMF Board of Trustees is as follows: Sir Peter Bazalgette (Chair), Lord Andrew Feldman, Rt Hon Ed Balls, Lord David Alliance, Alex Salmond MP and MSP, Gerald Ronson CBE, Dame Julia Cleverdon DCVO, CBE, Alice M. Greenwald, Natasha Kaplinsky, Baroness Dido Harding, Peter Freeman, Chief Rabbi Ephraim Mirvis and Sir Eric Pickles MP
the Holocaust Commission was launched on Holocaust Memorial Day 2014 at a reception for survivors in Downing Street. Read the speech
the memorial will be developed with guidance from Westminster Council, the Royal Parks and the Department for Culture, Media and Sport
Published 27 January 2016