Press release
PM congratulates the Queen on her Sapphire Jubilee
Prime Minister Theresa May, on behalf of the nation, congratulated Her Majesty the Queen on her 65-year reign.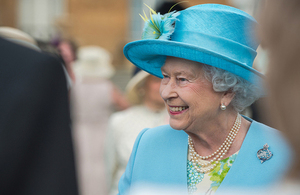 Prime Minister Theresa May said:
Today's Sapphire Jubilee marks yet another remarkable milestone for our remarkable Queen.

I know the nation will join with me today in celebrating and giving thanks for the lifetime of service Her Majesty the Queen has given to our country and to the Commonwealth. It is a testament to her selfless devotion to the nation that she is not marking becoming the first monarch to reign for 65 years with any special celebration, but instead getting on with the job to which she has dedicated her life.

She has truly been an inspiration to all of us and I am proud, on behalf of the nation, to offer our humble thanks and congratulations on celebrating her Sapphire Jubilee.
Published 6 February 2017