PM - combat troops will withdraw from Afghanistan by 2015
Prime Minister David Cameron has said the withdrawal of British combat troops from Afghanistan by 2015 was a 'firm deadline' that would be met.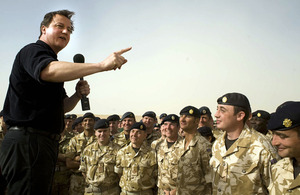 Speaking at the close of the NATO Summit in Lisbon, the Prime Minister said that the Afghan National Security Forces would begin taking charge of security from early next year.
He said the process would be complete by the end of 2014, allowing British troops to step back from combat roles by 2015:
The commitment we have entered into today to transfer the lead responsibility for security to the Afghan Government by the end of 2014 will pave the way for British combat troops to be out of Afghanistan by 2015," he told an end-of-Summit press conference. "This is a firm deadline that we will meet.
Mr Cameron's comments come after the leaders of NATO's 28 states backed a strategy to transfer leadership for the fight against the Taliban to Afghan National Security Forces by the end of 2014.
Afghan President Hamid Karzai attended the Summit, where he signed a long-term security partnership with NATO.
Mr Cameron hailed the agreement as the beginning of a 'new phase in the campaign':
This is a commitment made at the very highest level, with the broadest possible international support," he said.
While UK forces would no longer be involved in combat duties by 2015, Mr Cameron said NATO had also agreed to provide long-term support for Afghanistan on training, diplomacy and development:
We will stand by Afghanistan for many years to come," he said.
On Friday, member states agreed a new ten-year 'strategic concept', a document that defines the fundamental nature of NATO's role in the world.
The document commits NATO members 'to defend one another against attack, including against new threats to the safety of our citizens', without defining a geographical limit to its theatre of operations.
Also at the Summit, Russia agreed to co-operate on NATO's programme to defend against ballistic missile attacks.
NATO Secretary General Anders Fogh Rasmussen said the two sides had agreed in writing that they no longer posed a threat to one another.
Published 22 November 2010