Press release
PM celebrates US investment and jobs boost on Washington trip
UK companies have announced US trade and investment deals worth more than £1.1 billion that will create 1,700 new jobs in the UK.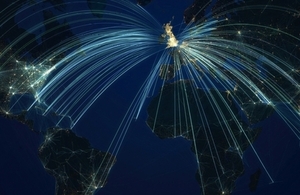 As the Prime Minister sets off for talks with President Obama on global economic security, UK companies have announced US trade and investment deals worth more than £1.1 billion that will create 1,700 new jobs in the UK.
The US is the UK's biggest trade partner with exports to the US worth nearly £90 billion in 2013 – more than any other country in the EU. The US is the biggest investor in the UK and our trade relationship with the US continues to grow, with trade increasing by over £7 billion (5.5%) in 2013.
US trade facts.
we keep mac n' cheese on the menu by exporting £22.6 million of cheddar to the USA every year
we are topping up Martinis from Philadelphia to Los Angeles through our £135 million worth of gin exports
we are keeping Americans on the road, selling £6 million of bicycles, £3.3 billion worth of cars and £33 million of motorbikes
we sell £500 million of British TV programmes in the US, keeping 11 million Americans glued to their TV sets to see the next Downton Abbey episode
we've sold over £200 million of Scottish Salmon to the US market, maintaining the restaurants of New York, Boston, and Miami in plentiful supply
Prime Minister David Cameron said:
With UK exports to the US increasing by over £6 billion in just one year and US companies employing a million people across the UK, our trade relationship remains one of the strongest in the world. The £1.1 billion of deals announced today will deliver concrete benefits for hard-working families, with 1,700 new jobs created around the UK stretching from Bristol to the North Sea. This is a clear vote of confidence in the UK and our long-term economic plan which is helping to safeguard our economy for the future.
Deals announced today:
IBEX Global anticipates adding over 100 jobs to their Bristol site in 2015 to 2016. This investment underpins both the attractiveness of Bristol for global business process outsourcing firms and also the importance of London as a centre for raising capital by international companies.
The Carlyle Group, one of the world's largest alternative asset managers, sponsors funds which have extensive commitments in the United Kingdom, and now, one of its investment funds, Carlyle International Energy Partners, is seeking to commit £660 million ($1 billion) of equity capital into the UK's Oil & Gas industry in the North Sea.
An investment to create a new £400 million integrated all-weather, year round leisure, health, sport and education destination - Peak Resorts near Chesterfield is located at the heart of the UK population on the edge of the 550 square miles (1,000 square kilometre) Peak District National Park. The project brings together leading hospitality, university, sport and medical expertise and offers 600 holiday apartments, hotel and hostel units with 250 woodland lodges.
The investment is a partnership between a UK development company and US firm Grand Heritage Hotel Group. It will create over 1,300 full time equivalent jobs when it opens and many more in the construction phase over the next 3 and half years.
The investment has been led by UKTI's newly formed Regeneration Investment Organisation and it is their first project to be agreed this year.
US-headquartered, global clinical research and commercial services company Quintiles continues to grow as they take on more work on behalf of pharmaceutical companies. With plans to add 200 employees in the UK, their UK headcount could top 3,000 in 2015.
A £500,000 deal between London-based SME Shadow Robot and US SME Moley Robotics to develop advanced next-generation robotics hands.
£1.3 million in US government funding for Watford-based Smiths Detection, for explosive detection R&D for its wearable chemical detection technology, already used by over 100,000 troops in the UK, US, and around the world.
A multi-million expansion plan from global food manufacturer, Mars, of its food production facility in Kings Lynn. Mars employs nearly 4,000 people in the UK including over 200 at the Hardwick Industrial Estate site in Kings Lynn.
Global professional service company Adam Smith International have signed an agreement to provide services to the US aid organisation Millennium Challenge Corporation across its operations worldwide worth up to £8 million.
Moxy Hotels, Marriott International's new economy, design led hotel brand and developer, Vastint Hospitality has announced approximately £70 million plans for new developments in Aberdeen, London's Royal Docks, Heathrow and Stratford. The hotels, which will create up to 100 jobs, will be designed for budget savvy travellers looking for a stylish hotel experience.
US based video-game company, Cloud Imperium Games (CIG) has set up a UK sister company in Wilmslow with plans to grow it to more than 100 employees in 2015 and beyond, with total investment at the site set to more than double from £5 million to £11.9 million.
Notes to Editors
UK Trade and Investment (UKTI) is the government department that helps UK-based companies succeed in the global economy. We also help overseas companies bring their high quality investment to the UK's economy – acknowledged as Europe's best place from which to succeed in global business. UKTI offers expertise and contacts through its extensive network of specialists in the UK, and in British embassies and other diplomatic offices around the world. We provide companies with the tools they require to be competitive on the world stage.
Published 15 January 2015