News story
Plus Size Fashion Weekend
Fashion industry, take note: curves are in.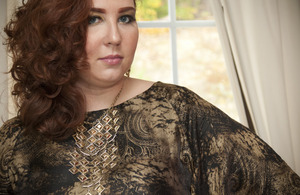 Fashion boutique Trapped in a Skinny World and plus size magazine Evolve have today launched the UK's first Official British Plus Size Fashion Weekend.
Taking place in East London, the event brought together local and international designers, fashion bloggers, speakers, models and retailers all showcasing their collections for plus size women.
Minister for Women and Equalities Jo Swinson attended the event and said:
We should celebrate beauty in all shapes and sizes, rather than promoting a one-size-fits-all 'ideal'.
The government's Body Confidence Campaign is playing its part by raising awareness about negative body image and encouraging a more open and public debate.
With the majority of women in the UK wearing a size 12 or above it speaks volumes about the pursuit of a thin ideal that these clothes are labelled 'plus size' in the world of fashion. That's why this event is important so that the industry recognises that many of their customers want to be confident in their curves and enjoy great design.
The government is helping to change attitudes
The government aims to raise awareness about body image and encourage a more open and public debate.
We have been working with a group of experts to identify solutions to tackle the causes of low levels of body confidence. This includes representatives from health and fitness, fashion and retail, youth and education, media and advertising, and the beauty sectors.
All Walks beyond the Catwalk sits on our expert advisory group and we support their work to increase diversity in the fashion industry. They have recently launched the competition 'Diversity Now' which seeks a fashion industry that empowers and emboldens people, which results in emotionally considerate practices in all areas of the industry.
We have published a parent pack and teaching pack, in conjunction with not-for-profit organisation Media Smart, to help educate children about how the media alter images and the impact this can have on self-esteem. These explore how and why idealised images in advertising and the media are used to construct particular messages and make people feel a certain way.
Published 15 February 2013