Planning power from town halls and Whitehall to local people
Neighbourhoods will be the 'building blocks of the Big Society' Radical new planning reforms were announced today to hand powers down from …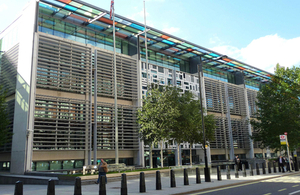 Neighbourhoods will be the 'building blocks of the Big Society'
Radical new planning reforms were announced today to hand powers down from Whitehall bureaucrats and down from Town Hall officials to communities so local people shape the character of the very neighbourhood in which they live.
In what are being labelled the building blocks of the Big Society, bold changes are being revealed to galvanise local democracy and help build new homes and plan new development with local support, and reward - not punish - those who want to grow and enhance their neighbourhood.
Communities Secretary Eric Pickles and Planning Minister Greg Clark today outlined proposals to decentralise and streamline the planning system, ahead of the publication of the Localism Bill.
Neighbourhood groups to shape where they live: Communities will be able to come together to decide what their area should look like, where new shops, offices or homes should go and what green spaces should be protected. Parish councils and new neighbourhood forums of local people - rather than town hall officials - will lead the way in shaping their community. If local people then vote in favour of new 'Neighbourhood Plans' in local referendums, councils will have to adopt them.
Direct democracy: This new stimulus will be one of the greatest incentives to get people and communities to come together to take control of planning. The new powers will also allow communities to give planning approval to chosen sites on local land. This will mean that urgent development can go ahead quickly once the plan is adopted, short-circuiting lengthy planning applications and making the system more democratic and efficient.
Local benefits from local development: At the heart of the new approach will be a package of powerful incentives, such as the New Homes Bonus, that will encourage the right kind of local development and financially reward those councils and communities that deliver new homes and businesses to their area. Reforms to the Community Infrastructure Levy will also see a meaningful proportion of the levy handed over to the local neighbourhoods where the development takes place.
Vanguards to lead the way: Ministers are calling on communities to get involved now. The Government would like to see about a dozen local areas come forward to act as vanguards that will trial Neighbourhood Plans in their area. This step will help ensure the experience of these 'Neighbourhood Vanguards' is taken into account before the legislation comes into force.
Eric Pickles, Secretary of State for Communities and Local Government, said:
For far too long local people have had too little say over a planning system that has imposed bureaucratic decisions by distant officials in Whitehall and the town hall. We need to change things so there is more people-planning and less politician-planning, so there is more direct democracy and less bureaucracy in the system. These reforms will become the building blocks of the Big Society.
Greg Clark, Minister for Planning and Decentralisation, added:
Most people love where they live, yet the planning system has given them almost no say on how their neighbourhood develops. The Coalition Government will revolutionise the planning process by taking power away from officials and putting it into the hands of those who know most about their neighbourhood - local people themselves. This will be a huge opportunity for communities to exercise genuine influence over what their home town should look like in the future. It will create the freedom and the incentives for those places that want to grow, to do so, and to reap the benefits. It's a reason to say yes.
Tony Burton, Director of Civic Voice, said:
Local communities care deeply about where they live and know it better than anyone. Neighbourhood plans will allow civic societies and other community groups to take the lead in setting out what people value, what development is needed and what can change for the better in their area. With the right support, and safeguards to ensure the community voice cannot be ignored, a new era of neighbourhood plans spreading rapidly across the country could transform the ability of people to shape their local area.
Notes to editors
Vanguards
1. Councils for Eden in Cumbria, Sutton in Surrey, West Dorset District Council, Bristol and the Royal Borough of Windsor and Maidenhead have already shown an interest in working with their communities. Ministers will consider proposals to become Neighbourhood Vanguards as they come forward.
Neighbourhood planning
2. As well as streamlining existing processes, the Government will introduce a new right for communities to shape their local areas by creating neighbourhood plans, and introduce powerful new incentives to encourage local communities to approve sustainable development. The new neighbourhood plans will be flexible so communities will be able to determine the issues or areas to cover and what level of detail they want to go into. Importantly it will enable communities (through a new Neighbourhood Development Order) to define specific developments or types of development which will have automatic planning permission without the need for any application to the local authority. For more complex cases they will be able to grant outline permission so that the right to develop would be established and only the details would need to be approved. This provides certainty which is vital for investment and giving communities confidence in the system. Neighbourhoods can also establish general policies that will steer decisions on traditional planning applications.
Defining neighbourhoods
3. Communities will be able to propose the boundaries of their neighbourhood. Neighbourhoods will generally be based on existing parishes and towns but the local council will have a role in mediating and consulting where there are conflicts or no established boundaries. This will provide a stable basis for neighbourhood planning, with local authorities approving appropriate boundaries.
Process for developing neighbourhood plans
4. Plans will be taken forward by Parishes or 'Neighbourhood Forums' in places without Parishes. The local council would have a duty to provide support and to ensure compliance with other legal requirements. There will be a light touch examination of the plan by an independent assessor to ensure that it complies with legal requirements and national policy, and is aligned with neighbouring plans and the strategic elements of the council's plan. A referendum (with a simple majority in favour) would ensure that the final plan had public support.
Neighbourhood plans must work inside some limits. It will not be a means for saying no to important growth. If major infrastructure is needed at a national level, such as a high-speed rail line, or if the strategic local plan calls for a certain number of homes to be built. They would still be required to be consistent with national planning policy and to conform to the strategic elements of local authority plans. The Localism Bill will have safeguards to ensure neighbourhood plans do not override these wider ranging plans. The National Planning Policy Framework will be vital in this respect.
Adoption
5. The council will have a duty to adopt a legally compliant neighbourhood plan that had been successfully passed by a referendum, giving real power to communities to determine if the plan is acceptable.
Twitter
Keep up to date with the Department by following us on Twitter (external link).
Media enquiries
Visit our newsroom contacts page for media enquiry contact details.
Published 6 December 2010