Press release
Planning Inspectorate hosts Bridget Rosewell for progress review
Bridget Rosewell met with the Inspectorate's Chief Executive, Sarah Richards, and members of the Inquiries Review implementation team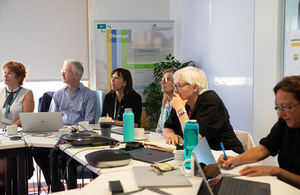 Yesterday, Bridget Rosewell met with the Inspectorate's Chief Executive, Sarah Richards, and members of the Inquiries Review implementation team to discuss progress in delivering the Review recommendations.
Since the publication of the report on 12 February 2019, the Inspectorate has started implementing the review's recommendations. Most notably since late March 2019 all inquiries are being dealt with 'Rosewell-style'. All of these appeals are tracking the new timeline and 10 have so far been decided: all 10 decisions met the 26-week target and 9 were decided in 24 weeks or fewer.
The two key elements in achieving these faster decisions have been the early setting of event dates and early inspector engagement firmly guiding parties in narrowing down issues right from the start of an appeal. Inquiry events are now always expected to take place in week 13 or 14 from the start of an inquiry appeal.
To support all parties in developing more focused appeal documents we have issued guidance on changes to the submission of Statements of Case, Statements of Common Ground and revised procedural guidance. We are pleased to see many appellants and local authorities have started to follow the guidance which sets out an important change to the inquiries process. Parties can also expect inspectors to enforce this guidance being followed.
Bridget commented at the meeting, "I'm really impressed with the enthusiasm with which the Inspectorate has embraced the recommendations and in particular taken up early engagement. I always thought this as critical to achieving faster decisions. It's great to now see this in action and everyone working together to keep improving it."
Published 20 September 2019