Ed Vaizey steps in to postpone Child with a Dove export.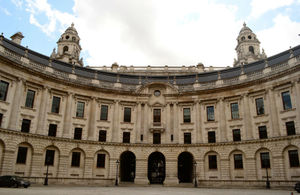 Culture Minister Ed Vaizey has placed a temporary export bar on one of Picasso's most important early paintings, Child with a Dove. This provides a final opportunity to keep the painting in the United Kingdom. 
The ruling follows a recommendation by the Reviewing Committee on the Export of Works of Art and Objects of Cultural Interest on the grounds that the painting is:
so closely connected with our history and national life that its departure would be a misfortune
of outstanding aesthetic importance
of outstanding significance for the study of Picasso's early works and artistic development, and British collecting of European avant-garde in the first decades of the 20th century
There are just five early oil paintings by Picasso in UK public permanent collections and Child with a Dove, painted in 1901, fills an important gap between Picasso's more derivative Impressionistic works and the slightly later Blue Period works.
The painting depicts an image of a young child holding a dove closely next to a multi-coloured ball, standing in front of a subdued background.
Acquired in 1924 by Mrs R. A. Workman, it was later sold to Samuel Courtauld, one of the most important art collectors in Britain and co-founder of the Courtauld Institute of Art. Courtauld bequeathed the painting to Lady Aberconway on his death in 1947.
In 1974 the painting was placed on long-term loan to the National Gallery where it remained on permanent display until 2010. This iconic and hugely popular painting has been at the centre of Britain's national collection for almost forty years, and has been admired by tens of millions of visitors.
"Much-loved painting"
Aidan Weston-Lewis, Reviewing Committee member, said: "Child with a Dove is a much-loved painting whose iconic status; together with its long history in British collections - latterly on loan to public galleries - make it of outstanding importance to our national heritage."
The decision on the export licence application will be deferred until 16 December 2012. This may be extended until 16 June 2013 if a serious intention to raise funds is expressed, at the recommended price of £50,000,000.
Offers from public bodies for less than the recommended price through the private treaty sale arrangements, where appropriate, may also be considered.
Further information
Published 17 August 2012