Press release
Physiotherapists and podiatrists set to gain prescribing powers
Patients could benefit from faster access to medicines such as pain relief and anti-inflammatories thanks to proposed new prescribing powers for advanced practitioner physiotherapists and podiatrists, Lord Howe announced today.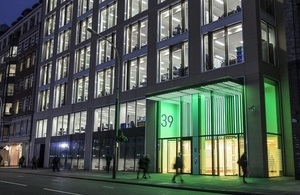 Once suitably trained, physiotherapists and podiatrists in the UK would be the first in the world to be able to independently prescribe medicines where clinically appropriate.
Physiotherapists would be able to prescribe medicines for issues such as chronic pain and respiratory diseases like asthma. The opportunity to prescribe pain relief and other medicines would help many patients to respond more quickly to their treatment.
Podiatrists who treat patients with a wide range of conditions including diabetic foot ulcers and arthritic disorders in the foot and ankle would be able to prescribe medication, if required, more promptly.
Health Minister Lord Howe said:
"Physiotherapists and podiatrists are highly trained clinicians who play a vital role in ensuring patients receive integrated care that helps them recover after treatment or manage a long term condition successfully. 
"By introducing these changes, we aim to make the best use of their skills and allow patients to benefit from a faster and more effective service, without compromising on safety."
Dr Helena Johnson, chair of the Chartered Society of Physiotherapy, said:
"Giving physiotherapists the opportunity to prescribe independently will hugely improve the care we can provide in the future. 
"Patients will now receive a more streamlined and efficient service, meaning they get the medicines they need more immediately." 
Alison Wishart, Chair of the Society of Chiropodists and Podiatrists said:
"Independent prescribing provides podiatrists with the opportunity to deliver more flexible services for patients - ensuring timely access to medicines, care closer to home and enabling innovation."
The proposal to extend prescribing responsibilities follows two public consultations last year and subsequent recommendations from the Commission on Human Medicines.
Physiotherapists and podiatrists who have successfully completed Health Professions Council (HPC) approved education programmes and are annotated on theHPCregister could be prescribing independently in 2014.
Notes to editors
For media enquiries only please contact the Department of Health press office on 0207 210 5416.
The Public Consultations on 'Proposals to Introduce Independent Prescribing by Physiotherapists and Podiatrists' ran from 15 September to30 December 2011. A Summary of the public consultation on proposals to introduce independent prescribing by physiotherapists is available on the DH website.
Amendments to legislation will be laid in the Autumn.  The Health Professions Council will consult on Standards for Prescribers later this year.  The first cohort of Podiatrists/Physiotherapists is expected to be recruited to approved independent prescribing education programmes in Autumn 2013.
Should the amendments to Medicines Legislation be accepted by Parliament, physiotherapists and podiatrists will then need to pass the newly developed requisite education courses in order to become annotated as independent prescribers on the Health Professions Council's register.
Published 24 July 2012