News story
PHE supports initiatives from the FSA to reduce campylobacter infections
Public Health England (PHE) welcomes the initiatives from the Food Standards Agency (FSA) to reduce levels of campylobacter bacteria in chicken.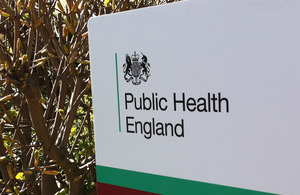 There are around 70,000 confirmed infections in people each year, the highest of all bacterial gastrointestinal illnesses. The real number of people who develop illness is a lot higher (up to half-a-million) as the illness is self-limiting and most people will not visit their doctor.
Public Health England (PHE) regularly reports outbreaks of Campylobacter infection linked to under-cooking of chicken livers used for preparing chicken liver pates and parfaits, particularly at weddings.
PHE were contracted by the Food Standards Agency (FSA) to measure contamination on fresh raw chicken from different retailers. This was measured by swabbing the outside of packaging and taking samples of meat and processing these in the PHE Food, Water and Environment laboratories to measure the level of Campylobacter contamination present.
Rates of contamination of chicken can change through the year, usually with more contamination in the summer compared to the winter.
Dr Frieda Jorgensen, a campylobacter expert at PHE, said:
We hope these results will encourage retailers and producers to take action to reduce chicken meat contamination and therefore infections in people. This will not resolve all potential for infection as there are other transmission pathways by which people can become infected including from the natural environment, private water supplies, contact with domestic or agricultural animals, the farm environment and raw milk.

However this initiative could contribute substantially to reducing the overall level of infections, as has been seen in a similar drive to reduce Campylobacter contamination of chickens in New Zealand.
Professor Paul Cosford, director for health protection at PHE, said:
Any initiative that helps to reduce the number of campylobacter infections in people is to be welcomed. Reductions that can be sustained through changes to industry practice and limiting the contamination at source are an excellent way forward.

Kitchen and hand hygiene are very important both in the domestic and commercial setting in preventing cross transmission and we would still encourage everyone to be especially scrupulous when cooking and handling meat. However, serious reductions in transmission will only occur when the levels of contamination that people are exposed to reduce.

Longer-term surveillance of the levels of contamination in chicken will be particularly important. It is only by looking at data over a longer period of time that you can see that there are sustained reductions being achieved by industry and retailers.
Published 27 November 2014