News story
PHE issues advice for travellers returning from China
Travellers should be aware of the risk of avian flu.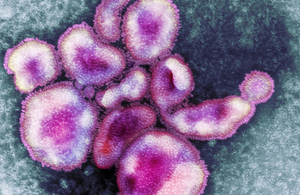 The Chinese New Year takes place on Friday 31 January 2014 and marks the most important celebration in the Chinese calendar. Given the very small but increasing numbers of human cases of avian influenza A/H7N9 being reported by China, Public Health England (PHE) is reminding travellers between the UK and China to be aware of the risk of avian flu, and take appropriate steps to minimise their exposure to live poultry.
To date, there have been a total of 256 laboratory confirmed human cases with avian influenza A/H7N9 virus, which includes 56 deaths, since this new flu subtype was first identified in people in March 2013. Although 125 new cases have been reported since November 2013, there has been a notable increase in cases over the last week or two.
Cases have been reported across several provinces and municipalities within China, including Hong Kong, and in Taiwan. The majority of recently reported cases have had close contact with birds, and are residents in areas where avian influenza A(H7N9) has previously been detected.
While occasional human-to-human transmission cannot be ruled out the main route of transmission is by close contact with poultry or other birds that are suffering from avian flu. PHE urges people visiting China to minimise their exposure to live poultry, avoid visiting live bird and animal markets (including 'wet' markets) and poultry farms, and to practise good hand and personal hygiene.
If travellers experience flu like illness within 10 days of returning from China, it is important to mention their recent travel when presenting to their GP. PHE has produced clinical guidance for health professionals in England on the assessment and investigation of patients with severe flu-like illness who have recently returned from China.
The National Travel Health Network and Centre (NaTHNaC) has published up to date guidance for people travelling to China.
Professor Brian McCloskey, Director of Global Health at PHE said:
The potential for spread of infectious diseases associated with mass gatherings is well recognised. While the risk to the UK from avian flu A(H7N9) is currently seen as being low, it is important that travellers take steps to minimise their risks and also report their travel to their GP if they do experience flu-like illness on returning to the UK.
Professor Nick Phin, Head of Respiratory Diseases for PHE said:
The UK is amongst the best prepared countries in the world when dealing with new threats such as avian influenza. PHE has arrangements in place that will be able to identify a new influenza virus, for the detection and investigation of suspected cases and the management of confirmed cases and their contacts.
Published 29 January 2014