PHE will publish a discussion paper on how to reduce the nation's sugar intake
PHE will publish a discussion paper to stimulate conversation with stakeholders on how we can help the nation to reduce its sugar intake.
This news article was withdrawn on
This news story has been withdrawn because it's over 5 years old. See PHE's latest news.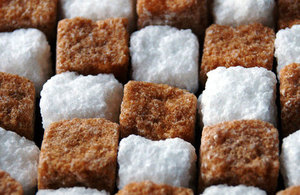 Public Health England (PHE) is actively exploring ways to help the nation reduce the amount of sugar they consume and to inform our thinking on improving dietary health and reducing levels of obesity in the population.
Earlier this month PHE held 2 forums, to explore ways of reducing the intakes of sugar, with a range of stakeholders including academics, charities, consumers groups and industry. The first of these took place on 3 June 2014 and was jointly hosted by PHE and the UK Health Forum, the second was held on 5 June 2014 and was jointly hosted by PHE and the Department of Health.
PHE is now preparing a paper to encourage a discussion on reducing sugar intake that will be published on 26 June 2014.
This work has been commissioned because all age groups in England are consuming too much sugar, especially teenagers, whose intake is 50% more than the current UK recommended amount. In addition, nearly two-thirds of adults and a third of children are overweight or obese. Being overweight or obese increases the risk of developing type 2 diabetes, heart disease and certain cancers. Over consumption of sugar can contribute to excess calorie intake, which if sustained leads to weight gain and obesity and also increases the risk of tooth decay.
PHE's role is to understand and review the evidence and is committed to advising Ministers once we have consulted with stakeholders.
The Scientific Advisory Committee on Nutrition (SACN) will publish its draft report of the evidence on carbohydrates, including sugars, and their impact on people's health on 26 June 2014.
Image by Howzey. Used under Flickr Creative Commons
Published 3 June 2014
Last updated 17 June 2014
+ show all updates
Text revised following successful events.

First published.