News story
Personalised registration transaction timings
DVLA issues an update on the delays in processing personalised registration applications.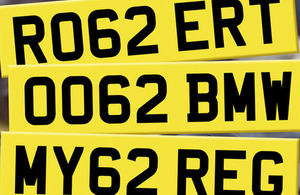 DVLA has been keeping you informed of our progress in handling the recent delays in processing Personalised Registration (PR) transactions.
As of Friday 6 September, Retention/Cherished Transfer applications are being processed within 8 working days from the date of receipt at DVLA and Assignments within 3 working days.
It remains our intention to return to consistently processing PR applications within the 7 working day service level target. This does not include the time spent in the postal system. You should allow several days at each end of the process in addition to this figure for applications to travel through the postal system so you can expect your application to be turned around within approximately 2-3 weeks.
If you need to check whether your application has been processed you can go to Get vehicle information from DVLA enter the registration number that's being transferred or assigned and the make of the vehicle it's going on to, if it returns the correct vehicle details the transfer has been complete.
Or alternatively contact DVLA on 0300 790 6802 if the application has exceeded the turnaround. Please do not respond to the MNS email address as we are unable to provide you with any information regarding your application. Any queries sent to this address will be redirected to our contact centres email enquiry system.
We plan to continue monitoring the situation and providing these bulletins. Once again we apologise for any inconvenience caused and thank you for your patience at this time.
Published 13 August 2013
Last updated 9 September 2013
+ show all updates
Update to the turnaround times
The personalised registration transaction timings have been updated as of today (13 August 2013).
First published.
Update to the turnaround times