Press release
Patients to have a greater say and choice over their care
People receiving continuing healthcare support from the NHS will have the right to ask for a personal health budget, by April 2014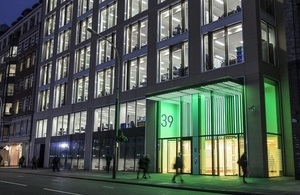 Personal health budgets to be rolled out from October 2012
 
People receiving continuing healthcare support from the NHS will have the right to ask for a personal health budget, by April 2014 Health Secretary Andrew Lansley will announce today.
 
It will give the tens of thousands of people who receive NHS Continuing Healthcare - those assessed to have complex health and care needs - more choice and control over their care.
 
Health Secretary Andrew Lansley said:
 
"Personal health budgets clearly fit with the future direction of a modern NHS - an NHS which focuses on quality and gives patients more control and choice.
 
"They allow people to work with the NHS so that they can receive more personal, more tailored care which fit with an individual's life and uses resources most effectively.
 
"This is a solution which must come as part of a cultural shift for doctors, healthcare professionals, providers and patients which sees the patient as an equal partner in decisions about their care. It will personalise the NHS and provide more integrated high quality care across health and social care."
 
A personal health budget is an amount of money that is allocated to patients so that they can use it to meet their health and wellbeing needs in a way that best suits them.
 
It aims to improve the patient experience by delivering care in the most appropriate setting and by the provider of their choice.
 
There are currently over 1,300 people receiving personal health budgets within the pilot programme for a range of conditions; long-term conditions; mental health; end of life care and NHS Continuing Healthcare.
 
Those eligible for NHS Continuing Healthcare will be the first group to receive personal health budgets, building on early evidence from the pilots as well as existing demand from this group - many of whom want to keep the control they have for managing their care within social care.
 
The announcement follows the independent NHS Future Forum report which recommended action to promote personal budgets and implement them within five years to give patients access to tailored services.
 
Early feedback shows that individuals have already experienced benefits with personal health budgets from using exercise classes to treat depression or enabling people who need 24/7 care to employ and train their own carers rather than relying on expensive agency staff.
 
One example is Trevor and Anita. Anita was diagnosed with the degenerative condition Huntington's Disease and requires 24 hour care. Her husband Trevor was Anita's only carer and had to leave his job to care for her.
 
When Anita was admitted to hospital with pneumonia, the option of a personal health budget was discussed with her and Trevor. They decided that carers would be of the most value to them, so they used Anita's budget to employ three carers, who now provide much-needed support.
 
Trevor said:
 
"Our personal health budget has opened the door to a better world. The professional help for Anita has not only dramatically improved her life, I feel it has also saved mine."
 
Within the pilot programme there is detailed work underway to explore many of the key challenges identified and develop best practice and other information that the NHS will need to deliver personal health budgets in the longer term.
 
They will be rolled out subject to evaluation of the pilot programme, which is due to end in October 2012.
 
ENDS
 
NOTES TO EDITORS
1.    For any media inquiries please call the Department of Health newsdesk on 0207 210 5221
2.    Twenty pilot sites for personal health budgets are being evaluated in depth, with the final evaluation report due in October 2012.
3.    NHS Continuing Healthcare is free care outside of hospital. It is only available for people who need ongoing healthcare and meet the eligibility criteria.
4.    Around 53,000 people are in receipt of NHS Continuing Healthcare at any one time, with a cost to the NHS of around £2billion per annum.
5.    At the heart of a personal health budget is a care plan. This sets out the individual's health and social care needs and includes the desired outcomes, the amount of money in the budget and how this will be spent.
6.    The care plan is developed in discussion with the patient and the professional before being checked and signed off by the local NHS to ensure the health outcomes are being met. Simply, it can be spent on any services or care that meets an individual's agreed health and wellbeing needs.
7.    NHS Continuing Healthcare can be provided in any setting, including a care home, hospice or the home of the person.
Published 4 October 2011