Press release
Patients are getting excellent or very good care in the NHS but more needs to be done
Research results published today show that more patients are being treated with respect and dignity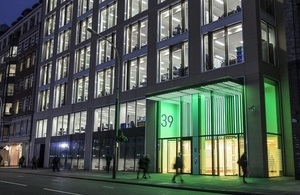 Patients continue to report improvements in aspects of care that matter most to them, and 84 per cent of patients rated their experience as excellent or very good, according to the results of the 2011 Patient Experience Outpatient Survey.
The results published today show that more patients are being treated with respect and dignity and felt they were involved in decisions about their care and treatment and in the amount of information given to them about their treatment.
The results also highlight areas in need of improvement, such as communicating with patients. Two thirds of patients were not told how long they would have to wait for an appointment and only 65 per cent said they knew what would happen during their appointment.
Independent research published today by Imperial College London suggests there is a link between patient feedback and hospital performance.
Researchers found that hospitals with better patient ratings tend to have lower death rates and lower readmission rates. Hospitals rated by patients as being cleaner have lower rates of MRSA infections.
The survey shows that more patients have reported very clean hospital wards, which mirrors falling levels of MRSA bloodstream and Clostridium difficile infections.
More patients are being seen on time for an outpatient appointment and 93 per cent of patients reported waiting less than three months for their first outpatient appointment.
However, fewer patients felt that staff 'definitely' explained what would happen during their treatment and what the risks and benefits were. In addition, fewer felt that staff 'completely' told them about potential side effects of medication.
Public Health Minister Anne Milton said:
"It is great news to see that patients are being seen on time, in clean environments and being treated with respect and dignity."
"However, it is simply not acceptable that 16 per cent of people with long term conditions or illnesses were not asked what was important to them in managing their condition, and 17 per cent felt their appointment had not helped them to better manage it."
"We want people to feel involved at every step of the care they get in hospital. There really should be 'no decision about me, without me."
"It is clear that there is more to do to improve the experiences of our patients. This is why we are modernising the NHS to put patients first. The NHS should be open and accountable to the public, and publishing patient feedback like this is vital for driving improvements in care."
Ends
Notes to editors
1.    The 2011 Outpatient Survey was co-ordinated by the CQC as part of the ongoing NHS national patient survey programme and follows earlier Outpatient Department surveys conducted in 2002/03, 2004/05 and 2009/10. Fieldwork took place between July and October 2011.
2.    The survey involved 163 acute NHS Trusts and had responses from over 72,000 patients aged 16 years or older who attended an outpatient appointment during April and May 2011. This survey was last carried out in 2009.
3.    Full results are available on the DH website.
4.    Further information is also available on the Care Quality Commission website.
5.    The Imperial College London press release can be found on their website.
6.    For more information, contact the Department of Health News Desk on 020 7210 5221.
Published 14 February 2012