Press release
Partnership agreement strengthens UK's export relationship with Iran
UK Export Finance (UKEF) and the Export Guarantee Fund of Iran (EGFI) have committed to enhancing trade and economic co-operation with a Memorandum of Understanding in a move designed to help British businesses export.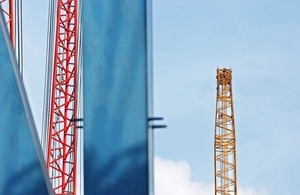 Under the agreement, UKEF, the UK's export credit agency, and EGFI, the Iranian state-owned credit insurance company, will work together to identify opportunities for trade in capital goods, equipment and services between the two countries. It also allows the parties to co-finance and co-guarantee financing for projects or contracts in third countries involving British and Iranian exports.
The memorandum follows the extensive sanctions relief Iran received earlier this year, as a result of which UKEF immediately reintroduced cover to support UK companies seeking to compete for business in Iran.
Lord Maude, Minister for Trade and Investment, welcomed the agreement, saying:
The UK government is working to build a strong and long-term partnership with Iran, and trade is fundamental to this. Agreements such as this one between UKEF and EGFI will help British businesses realise the opportunities that economic re-engagement will bring.
Louis Taylor, UKEF's Chief Executive Officer, said:
UKEF is committed to supporting UK businesses' ambitions to trade with Iran, and to playing its part in the whole of government effort to expand our trade relationship.

Working with EGFI will enable us to provide our customers with comprehensive advice and support as they look to trade with Iran. Through this partnership we can identify – and help create – real opportunities for UK exporters.
Seyed Kamal Seyedali, CEO and Chairman of EGFI, said:
EGFI welcomes this partnership. Closer cooperation with UKEF will help create opportunities for UK businesses to play their part in realising Iran's plans for rapid economic and infrastructure development. The agreement will also help EGFI to support Iranian exporters as they look to trade with the UK.'
Notes for Editors
UK Export Finance is the UK's export credit agency. It supports long term economic growth and competitiveness by complementing the private market with insurance for exporters, loan guarantees to banks, and support for and provision of loans to overseas buyers of UK goods and services.

Sectors in which UKEF has supported exports include: aerospace, construction, oil and gas, mining and metals, petrochemicals, telecommunications, and transport.

UKEF has a regional network of 24 export finance advisers supporting UK firms.

UKEF supports exporters with a range of products that include: * Bond support scheme * Buyer & supplier credit financing facility * Direct lending facility * Export insurance policy * Export refinancing facility * Export working capital scheme * Letter of credit guarantee scheme

The latest information on UKEF's cover position for Iran can be found here.

The announcement that UKEF has reintroduced cover for Iran is available on our website.
Media enquiries: Claire Lynch, Media Relations Officer
Published 9 March 2016