Paris conference on Libya
Prime Minister David Cameron and French President Nicolas Sarkozy co-chaired an international conference in Paris to discuss the future of Libya with the National Transitional Council.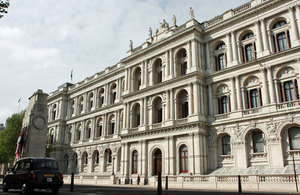 The meeting was an opportunity to help the National Transitional Council on the path to establishing a free, democratic and inclusive Libya. Over 60 countries attended the meeting along with UN Secretary-General Ban Ki-moon.
Leaders at the conference agreed to continue with NATO operations, bring those guilty of war crimes to justice and to support the National Transitional Council to achieve political transition.
Speaking following the meeting, the Prime Minister said that although "enormous difficulties" lay ahead the Libyans were showing the world their courage, spirit and resilience and said the NATO operation in Libya would continue for "as long as we are needed to protect civilian life".
"Some people thought that chaos would start the moment the regime fell so what we are seeing emerging now in Libya, despite the years of repression and the trauma of recent days and months, is immensely impressive.
International leaders at the conference, held in the Elysee Palace, unanimously agreed the need to hand over frozen Libyan assets to the NTC.
Earlier today Foreign Secretary William Hague described the conference as an historic step for Libya. He said it was an important opportunity for the NTC to set out their plans to stabilise Libya.
"We'll be working with the National Transitional Council on stabilising Libya. Good advice on policing, good advice on clearing mines, helping coordination with the United Nations. But this is Libyan led and Libyan owned and that's a very important point. We've faced a lot of legitimate questions over the last six months. Could we pass a UN resolution? Many people thought we couldn't, but we did. Would it be an unending stalemate? Many people thought it would be, but it wasn't. Time, as I often pointed out, was always against the Qadhafi regime."
Full transcript of the Foreign Secretary's video message
Published 1 September 2011