Overspeed at Queen's Park
Investigation into an overspeeding incident at Queen's Park, 5 January 2016.
This news article was withdrawn on
This item has been moved to the National Archives as RAIB has published its report describing this incident. See Report 19/2016.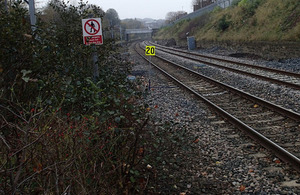 At approximately 08:30 hrs on Tuesday 5 January 2016, the 07:39 hrs passenger service from Bletchley to London Euston travelled at a speed of 75 mph (120 km/h) over a section of track near Queen's Park station, where a 5 mph (8 km/h) emergency speed restriction applied.
The London Midland service, reporting number 2B14, consisted of three class 350 electrical multiple units coupled together; a total of 12 coaches. It was being driven by a driver-manager who was being assessed, as part of a routine competence management process, by a second driver-manager travelling in the driving cab. No injuries or damage resulted from the incident, and the train continued normally to its destination.
The maximum speed generally permitted at this location is 75 mph (120 km/h), but an emergency speed restriction had been imposed during the previous night after a cracked rail was found at a set of points near the east end of Queen's Park station. The correct line-side signs and warnings had been placed on the approach to the speed restriction, and a notice warning of the speed restriction had been correctly displayed on the late notices board at the drivers' depot. In addition, emails relating to the speed restriction had been sent to various London Midland managers, including the driver-managers involved in the incident.
Our investigation will include examination of:
the actions of staff involved
the information they each received
any underlying management issues.
Our investigation is independent of any investigation by the railway industry or by the industry's regulator, the Office of Rail and Road.
We will publish our findings, including any recommendations to improve safety, at the conclusion of our investigation. This report will be available on our website.
You can subscribe to automated emails notifying you when we publish our reports.
Published 19 January 2016