Press release
Report 19/2016: Overspeed incident at Queen's Park
RAIB has today released its report into an overspeed incident at Queen's Park, London, on 5 January 2016.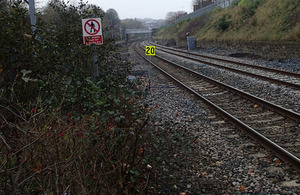 Summary
At 08:28 hrs on 5 January 2016, a London Midland train estimated to be carrying around 2000 passengers travelled at 75 mph (121 km/h) through a 5 mph (8 km/h) emergency speed restriction at Queen's Park in north-west London. The train was the 07:39 hrs service from Bletchley to London Euston and was being driven by a driver manager who was being assessed by another driver manager. The emergency speed restriction had been imposed due to a track defect. There were no injuries, no further damage to the infrastructure and no damage to the train which continued its journey to Euston.
The driver manager who was being assessed did not slow the train for the emergency speed restriction as he had misunderstood details of the restriction given in an email. Details of the restriction were also given on a notice displayed at his booking-on point, and lineside warnings were provided on the approach to the restriction. These did not correct the driver's misunderstanding. The assessing driver manager's knowledge of the emergency speed restriction was insufficient to notice the driver's error.
Recommendations
The RAIB has made three recommendations to London Midland seeking to improve the ongoing training of driver managers, improve the communication of safety critical information and to implement a means of quickly identifying the driver of any train. The RAIB has also identified three learning points concerning the importance of managers fully preparing before driving trains, the need for driving assessors to prepare as if they were driving the train and the use of unambiguous words in safety communications.
Notes to editors
The sole purpose of RAIB investigations is to prevent future accidents and incidents and improve railway safety. RAIB does not establish blame, liability or carry out prosecutions.
RAIB operates, as far as possible, in an open and transparent manner. While our investigations are completely independent of the railway industry, we do maintain close liaison with railway companies and if we discover matters that may affect the safety of the railway, we make sure that information about them is circulated to the right people as soon as possible, and certainly long before publication of our final report.
For media enquiries, please call 01932 440015.
Newsdate: 6 October 2016
Published 6 October 2016