Press release
Over two million pounds allocated to fund 50,000 school cycle training places
Norman Baker announces funding for over 50,000 Bikeability cycle training places through 206 schools across England.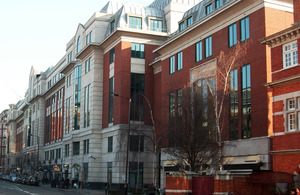 Transport Minister Norman Baker today (19 October 2011) announced that £2,083,976 has been allocated to 206 schools across England to fund over 50,000 Bikeability cycle training places this year.
This follows a commitment given earlier this year by the DfT to support and provide funding contributions for Bikeability for the remainder of the parliament. A total of £11 million has been made available for cycle training during financial year 2011 to 2012, helping to deliver up to 275,000 cycle training places to school children aged between 10 and 11.
Norman Baker announced the funding whilst on a visit to Chalk Ridge Primary School in Basingstoke, where he observed children taking part in Level 2 Bikeability training which involves cycling on the road. Chalk Ridge Primary School will have 52 training places delivered.
Norman Baker said:
This government is strongly committed to cycling - it is a crucial part of building a healthy and sustainable transport network for the future. That is why we have provided £11 million of funding this year for the Bikeability programme, which not only promotes the benefits of cycling as a healthy and enjoyable way of getting around, but enables children to do it safely and confidently.
Local authorities bid for Bikeability grants in advance of the financial year starting. In addition, Schools Games Organiser Host Schools - who are responsible for co-ordinating PE and school sport with partner schools - bid for grants via the Youth Sport Trust. There are 2 opportunities each year for them to bid for funding and today's announcement sees the first allocation. There will be another allocation of funding in November this year.
Jim Blaber, Deputy Head, Chalk Ridge Primary School, said:
The Bikeability scheme is very important; it allows pupils to develop a lifelong skill, encourages independence, promotes a healthy life style choice and ensures that the children are safer when cycling on our busy roads.
Notes to editors
Further information about Bikeability
The Department for Transport provides Bikeability funding to local highway authorities and School Games Organiser Host Schools (formally School Sports Partnerships). 2011 to 2012 funding allows for a contribution of up to £40 per level 2 training place aimed at year 6 school children.
Local highway authorities bid for grants in advance of the financial year starting. Their grants cover the entire financial year. School Games Organiser Host Schools (SGOHOs) bid for funding via the Youth Sport Trust. There are 2 programme access windows (PAWs) for SGOHOs. Funding windows for grant to be spent in 2011 to 2012 have been in June to July and October to November 2011.
Hampshire County Council received a £300,000 grant from the DfT for Bikeability. This will fund 7,500 places.
Bikeability training in 2011 to 2012 covers level 2 which teaches pupils the following:
start and finish a journey by road, including passing parked or slower moving vehicles
be aware of everything around you and signal your intentions to other road users when someone needs to know what you're doing
position yourself properly on the road and pass side roads
use junctions including turning left and right into major and minor roads
decide whether a cycle lane will help with your journey
use the Highway Code, particularly when it comes to understanding road signs
News desk enquiries
Media enquiries 020 7944 3021
Out of hours media enquiries 020 7944 4292
Switchboard 0300 330 3000
Published 19 October 2011