Press release
Outward Volunteer Club latest winner of Big Society Award
Outward Volunteer Club is the latest Big Society Award winner, for its work transforming run-down community areas in Olympic boroughs.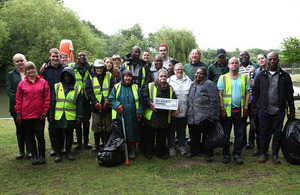 Outward Volunteer Club, a group of volunteers with learning disabilities and mobility issues, has been recognised by the Prime Minister with a Big Society Award for its work transforming run-down community areas in 5 of the Olympic boroughs.
The group, who all have learning disabilities which can be mild, moderate or complex, and some mobility issues, have worked together for 3 years to improve areas of London through collecting litter, clearing canal paths and planting flowers in community areas. They have now officially adopted some of the areas they have transformed so they can maintain them to bring continued benefits to the wider community.
The Outward Volunteer Club has seen:
3,360 community volunteering hours delivered
71 people volunteering through Volunteer Club
7 cross sector partnerships created
7 participants with learning disabilities accepted as official Olympic volunteers, 15 volunteers recruited to support participants with learning disabilities, 4 participants now in workplace volunteering and 3 participants in paid employment
The project was set up to minimise the social isolation felt by some people with learning disabilities, giving them a stake in their communities and motivating them to achieve. The people involved with Volunteer Club have overcome significant issues to commit to regular volunteering and have become role models for other people with learning disabilities. Their reputation and active encouragement of others has seen a year on year increase in the number of people with learning disabilities volunteering through Volunteer Club.
Commenting on the award, Prime Minister David Cameron said:
It is important that everyone has the opportunity to get involved in their local community and be a part of the stronger, fairer society we are all working to build. The work Outward Volunteer Club does to help people with learning disabilities enjoy volunteering opportunities in their local communities is important in helping them to play an active role in those communities. Their achievement of over 3,000 hours of volunteering so far is fantastic and I hope they continue to help even more people join in activities to improve their local area.
Chief Executive, Peter Little from Outward said:
Here at Outward we are very proud of the work of all our volunteers in our Volunteers Club. We are all really pleased that this Big Society Award not only recognises our volunteers' achievements, it also acknowledges that people with disabilities can and do make a significant and positive impact upon their local communities.
The impact of the Volunteer Club can be seen across five London Olympic Boroughs with a variety of community regeneration projects benefitting from their work. Litter and undergrowth were cleared from a neglected waterway in Tower Hamlets to improve access to the canal tow path, and the Volunteer Club have now 'adopted' this stretch of canal.
The group demonstrate how people with quite profound learning disabilities make a lasting impact on the communities in which they live. Bow Lock in Tower Hamlets has seen a real clear up effort, graffiti has been removed in Ridgeway Park, Newham. Weed removal and habitat creation for wildlife in Waltham Forest has led to the group undertaking a habitat survey, creating a nature trail for school children which has been adopted as the official nature trail for the park. Flower beds and planting schemes continue to be looked after by the Volunteer Club.
As part of Thames 21's Love the Lea campaign, Volunteer Club intend to improve parts of East London's Lea Valley Regional Park, and to rejuvenate the banks of the River Lea which flows through the East London Boroughs of Hackney and Tower Hamlets before it reaches the Thames - aiming to make these open spaces more beautiful and accessible for those that visit them.
Notes for editors
Images available upon request.
For media enquiries please contact:
Stuart Tattersall
Outward Volunteer Club
07989341867
stattersall@outward.org.uk
http://www.outward.org.uk/volunteer.php
Outward is an East London based charity that provides care and support services for some of the most vulnerable people in our communities. Outward is an innovative care and support provider, they pilot new initiatives, new approaches and new ways of working to ensure they effectively meet the wants and needs of those that they support.
Outward are part of the Newlon Group and work with group partners to set up new services, recent examples are two 'state of the art' Extra Care Schemes for older people in the heart of London. Outward's are currently developing an 11 acre site to provide rural activity holidays for people with disabilities - Nutley Edge is due to be completed in the late Summer of 2013.
In addition to having a Volunteer Board and training and placing an average of 80 volunteers per year within their organisation, Outward also set up volunteering initiatives for vulnerable people. Volunteer Club is one such example. Its on-going success is testimony to the people with learning disabilities that take part and the commitment of manager Joseph Doran and his team.
Published 28 June 2013