Press release
Outbreak of salmonella has links to the consumption of cooked meats
Investigations show that an outbreak of salmonella seen in England and Wales has links to the consumption of cooked ham bought from small independent butchers' shops.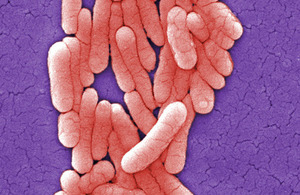 The results of tests carried out by environmental health officers on the product did not show the presence of salmonella although it did reveal other hygiene issues. As a result of this the supplier has withdrawn certain batches of ham.
There have been 21 confirmed cases in Wales where the outbreak was first detected, and a further 42 confirmed cases in England (36 last reported). Twelve people have been hospitalised (5 in Wales and 7 in England – up from 4). Other potential cases are being investigated.
Experts from Public Health England (PHE) are working with Public Health Wales (PHW), the Food Standards Agency (FSA) and environmental health officers from several local authorities to trace the origins of the contaminated food.
Dr Bob Adak, head of the gastrointestinal diseases department at PHE said:
Although the source of the outbreak has not been confirmed some of the cases have been linked to the consumption of cooked ham sold by a small number of independent butchers.

Investigating outbreaks of foodborne illness is a complex process as people have to try and remember what they ate some weeks prior to becoming unwell. In this instance many reported eating cooked meats. The FSA is following all possible leads along with Environmental Health to try and establish the source of the outbreak. This process is ongoing
Salmonella food poisoning is usually caused by eating contaminated raw or undercooked food like meat, eggs, and dairy products. Symptoms can include diarrhoea, stomach cramps, vomiting and fever.
Ends
Notes to editors
The cases in Wales were first detected in the middle of July in Conwy and Gwynedd.
How can you avoid getting infected with salmonella?
Wash your hands thoroughly with soap and warm water:

before preparing and eating food

after handling raw food

after going to the toilet or changing a baby's nappy

after contact with pets and other animals, especially reptiles and amphibians

after working in the garden

Keep cooked food away from raw food

Store raw foods below cooked or ready-to-eat foods in the fridge to prevent contamination

Wash raw fruits and vegetables thoroughly before eating

Cook food thoroughly, especially meat, so that it is piping hot

Keep all kitchen surfaces and equipment including knives, chopping boards and dish cloths clean

Do not drink untreated water from lakes, rivers or streams

Do not keep reptiles or amphibians in households where there is a child under 5 years of age, or someone with a weakened immune system
If someone has salmonella, wash all dirty clothes, bedding and towels in the washing machine on the hottest cycle possible. Clean toilet seats, toilet bowls, flush handles, taps and wash hand basins after use with detergent and hot water, followed by a household disinfectant.
Public Health England's mission is to protect and improve the nation's health and to address inequalities through working with national and local government, the NHS, industry and the voluntary and community sector. PHE is an operationally autonomous executive agency of the Department of Health. www.gov.uk/phe Follow us on Twitter @PHE_uk
Infections press office
PHE press office, infections
61 Colindale Avenue
London
NW9 5EQ
Published 12 September 2013
Last updated 18 September 2013
+ show all updates
Updated the number of confirmed salmonella cases in England from 36 to 42.
Updated the number of confirmed salmonella cases in England from 30 to 36.
First published.