Organisation for Security and Co-operation in Europe (OSCE) Summit in Astana
Summit in Kazakhstan capital to focus on security, democracy and human rights.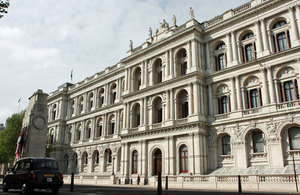 The Organisation for Security and Co-operation in Europe Summit is being held on 1-2 December.
Representatives of the 56 participating States in the OSCE are gathering in Astana, the capital of Kazakhstan, for the first Summit since 1999. Participants from Europe, Central Asia and North America will discuss a range of issues including the OSCE's role in enhancing security, promotion of democracy and human rights.
Deputy Prime Minister Nick Clegg is leading the UK delegation to the Summit. He is accompanied by the Minister for Europe, David Lidington MP, and UK Trade and Investment Chief Executive Andrew Cahn. During his visit to Astana, the Deputy Prime Minister will also hold a series of bilateral meetings with his Kazakh hosts and other Heads of Delegation. In addition, he will meet with major British businesses working in Kazakhstan, meet representatives from opposition parties, and hold a roundtable discussion with local NGOs.
On the first day of the Summit, the Deputy Prime Minister met with US Secretary of State Hillary Clinton to discuss a wide range of issues including Iran, Pakistan, Afghanistan, the Middle East Peace Process and Sudan. Read full story
The UK's Ambassador to the OSCE, Ian Cliff said: "It is good that the OSCE events in Astana start with a focus on the Human Dimension. Democracy, freedom of the media and human rights are core values if we are to have genuine security for the whole OSCE space from Vancouver to Vladivostok."
The OSCE has 56 member states covering the whole of Europe, the Former Soviet Union, the United States of America and Canada.
Pictures of the OSCE Summit, Astana
Published 1 December 2010