World news story
Opportunity for UK citizens in Luxembourg to register to vote in the EU referendum
British citizens living in Luxembourg have the opportunity to vote in the EU Referendum on the 23 June.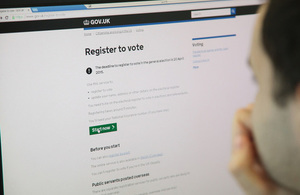 British citizens resident in Luxembourg who have been registered to vote in the UK within the last 15 years can register to participate in the referendum as an overseas elector. It only takes five minutes to apply to register at www.gov.uk/register-to-vote.
The British Government is encouraging eligible voters to register sooner rather than later to be absolutely sure they've registered in time. The deadlines for registering to vote will be set shortly and those not registered will be unable to vote in the referendum.
To register, you will need your date of birth and UK National Insurance number. (If you don't have a National Insurance number you can still register, but you may need to supply more information to show who you are). If you don't want to register online you can download paper forms and submit them by post.
With regard to the referendum itself, you can choose how you wish to vote. You can vote by post, by proxy (appointing someone you trust to vote on your behalf) or in person at your local polling station.
Alice Walpole, the British Ambassador to Luxembourg, said:
It is tremendously important for those British citizens who live and work across the European Union to make their voices heard on this vital issue. I warmly invite all eligible British nationals living in Luxembourg to make use of their right to vote.
Published 14 March 2016