News story
Opportunities for Islamic finance in the UK
The UK has provided Islamic financial services for over 30 years, and is a leader amongst Western countries in this field.
At the end of 2012/13 the global market for Islamic finance was worth around US$1.3 trillion, with US$19 billion of reported assets in the UK. There are 716 Islamic financial institutions spread over 61 countries.
As the Islamic finance industry has developed the UK has created a market where Islamic banks and their clients are not treated any differently to their conventional counterparties. Initiatives include:
removing double tax on Islamic mortgages
extending tax relief on Islamic mortgages to companies as well as to individuals
reforming arrangements for issues of debt In 2012 the UK was ranked the 9th largest country by Sharia compliant assets with more than 20 institutions offering Islamic finance and six wholly Sharia compliant banks. The UK already offers great growth potential to Islamic financial services:
more than 20 international banks operating in the UK are working in Islamic finance, 6 of which are fully Sharia compliant
British banks are increasingly active in the international Sukuk market
UK domestic banks are expanding their Islamic finance offering to meet demand
Islamic finance has helped transform London's skyline by financing in whole or in part developments such as The Shard, Chelsea Barracks, Harrods and the Olympic Village.
the UK has the largest legal services market in Europe and over 25 law firms with offices in the UK are supplying Islamic legal services
there are 9 fund managers offering Islamic asset management services to their clients *all of the UK's largest accountants, consultants and professional service firms have Islamic finance departments
new standards and qualifications in Islamic finance are being offered by professional institutes, universities and business schools across the UK
the London Stock Exchange has raised a total of US$34 billion through 49 issues of Sukuk
the London Metal Exchange (LME) is an important avenue for the growth of Islamic finance globally - a significant volume of liquidity management transactions concluded by Islamic finance institutions and other Sharia compliant firms are supported by metals on LME warrant
The UK is proud to be hosting the World Islamic Economic Forum (WIEF) in October 2013. It is the first time the Forum has been held outside of the Muslim world. UKTI are organising a British Business Pavilion event at WIEF to compliment the main themes.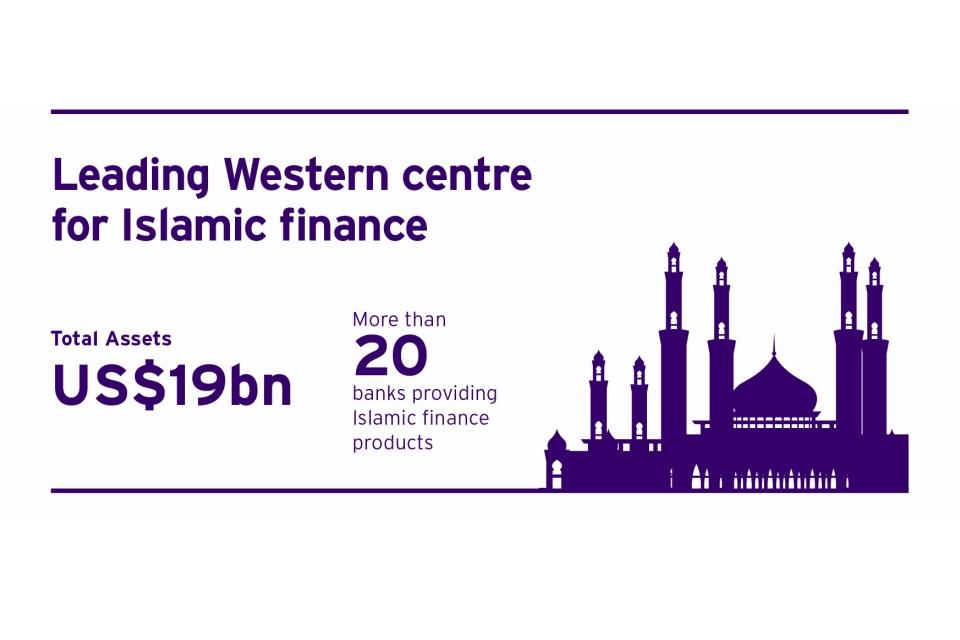 Investment opportunities in the UK
The key projects in the UK which currently need investment and development partners include:
offshore wind: a potential investment programme in excess of £100 billion
nuclear: up to eight individual sites with capital value per project of £8-9 billion
offshore transmission: an investment programme of £15 billion to support offshore wind projects
High Speed 2: a high speed rail line from London to the North with potential investment value estimate of c. £32 billion
ports: opportunities for turbine manufacturing investment in support of offshore wind programme and opportunities to support post-Panamax container facilities
Thames Tideway: new waste water tunnel with a capital value £4.2 billion
Atlantic Gateway: a £75 billion regeneration and infrastructure development in North West England
Olympic Park: £9 billion redevelopment following the 2012 London Olympics
urban regeneration: a pipeline of over £100 billion of significant urban regeneration and development opportunities across the UK
If you are interested in any of these investment opportunities contact the UKTI Investment Services Team
Islamic finance education in the UK
The UK is one of the most desirable places to study in the world with around 100,000 international students studying at UK universities. A range of specialist courses and qualifications in Islamic finance are taught in the UK at a number of universities, business schools and professional bodies.
Further information
More information is available through the UKTI guide to UK excellence in Islamic finance
Published 28 October 2013