Operations in Libya to continue as long as necessary
Following yesterday's announcement by Libya's National Transitional Council that the country has now been fully liberated, UK Defence Secretary Philip Hammond has said that NATO operations there will continue for as long as necessary, but not a moment longer.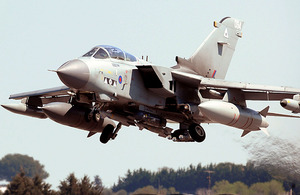 Mr Hammond said:
The Libyan people have liberated their country from a ruthless tyrant, the death of whom brings to an end his ability to persecute his own people once and for all. This has been their revolution and they can be rightly proud of their achievements.
When the UK and its allies commenced military operations on 19 March, Colonel Gaddafi's forces were hours away from massacring the people of Benghazi, and Misurata was besieged with snipers and under heavy artillery attack.
"The world has witnessed the devastating consequences of Gaddafi's aggression against his own people. NATO's action protected civilians from the barbarity of the Gaddafi regime, and will allow the Libyan people to choose their own destiny.
NATO Secretary General Anders Fogh Rasmussen said yesterday:
Our NATO-led operation to protect the people of Libya, under the historic mandate of the United Nations, is very close to completion. We have taken a preliminary decision to end Operation UNIFIED PROTECTOR on 31 October, and we will take a formal decision in the next few days.
As we wind down the operation, together with our partners, we will monitor the situation and retain the capacity to respond to threats to civilians, if needed, so that the people of Libya can safely take their future fully into their own hands.
Published 24 October 2011