Operational Allowance to double
During his recent visit to Afghanistan, Prime Minister David Cameron announced the doubling of the Operational Allowance (OA).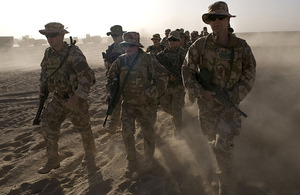 Mr Cameron announced that the tax-free allowance will increase from £14.51 per day to £29.02 and payments will be backdated to 6 May 2010.
Therefore, from 6 May 2010, Service personnel will receive £5,280.88 tax-free for a 182-day (six-month) tour in an appropriate operational area.
Payment is in the form of a single lump sum paid on completion of operational service. The first payments at the new rate will be made in July.
Service personnel who have earned or will earn OA during the period 6 May to 30 June 2010 will be paid in the June 2010 pay run at the old rate of £14.51. A compensating payment, taking the rate increase into account, will be activated manually and, wherever possible, will be paid in the July 2010 pay run.
Defence Secretary Dr Liam Fox said:
I am delighted that we have doubled the Operational Allowance for those of our troops who are engaged in the very highest areas of conflict.
In doing so we have fulfilled a key commitment set out in our coalition programme for government.
The Operational Allowance is paid to Service personnel engaged in the most demanding of conflicts and who are deployed on agreed operations: Op HERRICK (Afghanistan), Op TELIC (Iraq), and Combined Task Force Iraqi Maritime (naval operations in the Gulf).
Published 15 June 2010