Press release
Online review sites commit to improve practices
Five online review sites have committed to improvements that will give people a more complete picture when making buying decisions.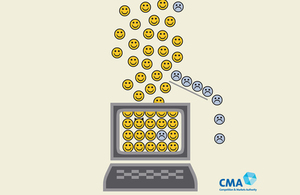 After engaging constructively with the Competition and Markets Authority (CMA), 2 websites for finding tradespeople, Checkatrade and Trustatrader, and the care home review sites Carehome.co.uk, Care Opinion and Most Recommended Care, have all agreed to improve their practices. These improvements address concerns that were raised following a call for information by the CMA on online reviews and endorsements.
The CMA's call for information highlighted a number of general concerns about the review sector, including the potential for some review websites' practices to prevent some genuine negative reviews from being published, some review websites not checking reviews sufficiently rigorously, and important information not being brought to the attention of the users of some websites.
The operators of all 5 review sites have worked with the CMA in relation to their practices. Each of them has committed to making bespoke improvements in response to the specific concerns that were relevant to them in one or more of the following areas:
Ensuring that all genuine, relevant and lawful reviews are published. In order to mitigate their legal risk, Carehome.co.uk and Care Opinion had previously given care homes the option to restrict the publication of reviews, instead publishing a prominent message indicating that a review had been withheld. They have now agreed not to offer care homes an automatic right to restrict. Checkatrade will make it clearer that, in line with its existing policy, if people would like their negative review to be published they can do so whether or not they would like further contact with the trader.

Ensuring that reviews received are checked properly as to whether they are genuine. Checkatrade, Trustatrader and Most Recommended Care will build on their existing verification processes to strengthen their checks.

Ensuring that important information is brought to the attention of users. Checkatrade, Trustatrader and Most Recommended Care will improve the information that is given to users about how reviews are collected, checked and published, building on their existing practices. Most Recommended Care will also ensure that its commercial relationships with businesses are prominently disclosed.
Nisha Arora, CMA Senior Director, Consumer, said:
Millions of people look at online reviews and endorsements before making buying decisions, and so it is crucial that review websites check and present reviews in a way that ensures consumers can trust them.

Review sites play a critical role in giving consumers this valuable information and ensuring that consumers can trust the reviews they see. We welcome the constructive engagement we have had with the 5 review sites which will mean that people using them will have a more complete picture when reading reviews. These changes should help people to make the right choices when hiring a tradesperson or making a vital decision on the care of a loved one.

The CMA's action is part of a wider package of work aimed at improving practices in the online reviews and endorsements sector. As well as writing to the operators of other review websites for tradespeople and care home sites, we are issuing further advice and information to review sites across all sectors to remind them about their legal obligations. In addition, we have opened investigations into a number of companies involved in reviews and endorsements, and expect to make further announcements about these in the coming weeks.
Notes for editors
The CMA is the UK's primary competition and consumer authority. It is an independent non-ministerial government department with responsibility for carrying out investigations into mergers, markets and the regulated industries and enforcing competition and consumer law. For more information on the CMA see our homepage or follow us on Twitter @CMAgovuk, Flickr and LinkedIn.
A summary of the improvements that each review site has committed to has been published on the CMA website.
The CMA has issued advisory letters to businesses and a 60-second summary containing information on consumer law. It has also published a useful .
The CMA's call for information report was published on 19 June 2015.
More than half of UK adults (54%) use online reviews before making a decision about what to buy - see call for information report.
Trusted trader sites are used by consumers to find tradespeople to carry out repairs and improvements to their homes. The CMA estimates that UK consumers spend around £3.9 billion a year on home improvements services after reading online reviews. Kent Trading Standards Service (TSS) and Hertfordshire TSS, which worked with the CMA to agree changes to the practices of Checkatrade and Trustatrader, will oversee the implementation of the changes they have agreed.
Under current practices, where a review has been restricted on Care Opinion's site, the review is still visible to care regulators and local authorities; where a review has been restricted on Care Opinion or Carehome.co.uk, the reviewer's rating still counts towards the provider's overall rating.
The CMA has also worked with Care Quality Commission (CQC), NHS Choices and the Scottish Government in the course of its work in the care homes sector. The CMA has asked them to ensure that any partnership agreements they have with review sites require compliance with consumer law. CQC uses reviews from review sites, alongside other information from partners and the public, to inform its decisions on the scheduling and planning of inspections of care homes. NHS Choices pools reviews with partners, so the consumer reviews it collects are shown on its partners' sites, and vice-versa. The Scottish Government is providing funding to support a pilot scheme run by a review site that enables users to feed back their experiences in using adult social care services in Scotland.
The CMA has not opened a formal investigation into the 5 sites on whether their practices could breach consumer law. Where there is evidence that practices breach consumer law this could lead to enforcement action by the CMA or other enforcers. Only a court can decide whether a particular practice breaches the law.
Enquiries should be directed to Siobhan Allen (siobhan.allen@cma.gsi.gov.uk, 020 3738 6460) or Simon Belgard (simon.belgard@cma.gsi.gov.uk, 020 3738 6472).
Published 11 February 2016