On your marks at the Bird's Nest!
Foreign Office Minister Jeremy Browne has visited the Bird's Nest Stadium and met top officials charged with maintaining the 2008 Beijing Olympics' legacy.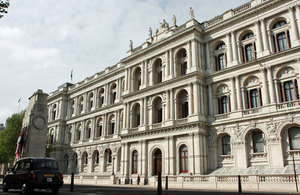 Foreign Office Minister Jeremy Browne
The Minister, who has responsibility within the FCO for the London 2012 Games, went to see for himself the iconic National Stadium and surrounding Olympic sites which are seeking to keep the Games spirit alive long after the athletes left for home. Watch him talk about his visit on YouTube.
London aims to make it's Games both sustainable and enduring and the Minister's five-day visit to China, which also took in the British Pavilion at Shanghai Expo, included learning from Beijing's experience. It has now seen the nearby Water Cube Aquatic Centre converted into a popular water fun palace and street entertainers nightly bring alive the area surrounding the Cube and Bird's Nest for the public to enjoy. Other venues are used by their communities and host training and other events.
The Minister was given a conducted tour of the Stadium and had detailed discussions with Vice-chairman Zhang Xiaoyu of the Beijing Olympic Development Association (BODA). Together they were also able to enjoy a panoramic view of the area from the top of the Olympic TV tower which in 2008 beamed TV coverage around the world and hosted interviews with some of the Games' big names.
Click here for More pictures of the Minister at the Olympic site on the UK in China website, or visit the UK in China Flickr.
Published 15 September 2010