News story
Olympic Border Force prepared for peak Olympic arrivals
Border Force is fully prepared to cope with the peak of Olympic Games arrivals. It will be implement plans and man every desk at peak times.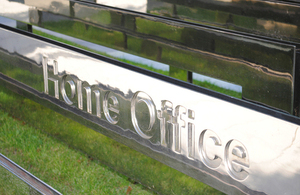 A Border Force spokesperson said: 'On Sunday our Olympic arrivals plans come into full swing. We have 500 additional officers working at ports across the country and have every passport desk manned during busy periods at Heathrow.'
The vast majority of passengers pass through immigration control quickly, as shown by the fact that we hit all of our targets for EEA passengers and over 90 per cent of non-EEA passengers.
Planning for the Olympics began nearly two years ago and during the Olympics, in addition to having every desk manned at Heathrow during peak times, Border Force is:
collaborating closely with BAA and other port operators to model arrival processing times during the Games. We will monitor and update our plans as airlines begin to confirm passenger numbers and arrival times
collecting biometric details (picture and fingerprint) in advance for athletes and coaches (Games Family Members) who would require a visa, helping to speed up checks at the border. We have already collected more than 10,000 biometrics
providing dedicated arrival lanes for Members of the Games Family arriving at Heathrow
rostering staff to match peak periods and using our well trained contingency force from across government
Border Force has also:
opened a Command Suite at Heathrow, allowing Border Force to monitor desks at all Heathrow terminals and move staff to deal with growing passenger numbers. By speeding up our reaction to bunching and  late/early flights we can deploy staff more quickly
introduced 16 mobile teams which give us the ability to deploy staff 24/7 to passport control in line with passenger demand
used our contingency pool of hundreds of trained staff to boost numbers in ports and airports
deployed staff flexibly to meet demand, based on airline passenger number predictions and arrival schedules.
A Border Force spokesperson continued: 'We will not compromise border security but are working with airlines to keep delays to a minimum, particularly ahead of the busy Olympic period.'
Published 13 July 2012