Ofqual to get new powers to fine exam boards over mistakes in papers
The Department for Education is to give the independent exams watchdog Ofqual new powers to fine exam boards which make mistakes in papers.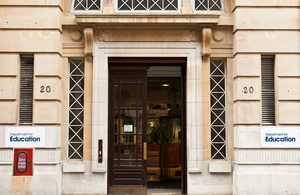 The move to give Ofqual new fining powers follows 11 errors in a range of A levels, AS levels and GCSEs in England this summer, affecting almost 140,000 papers.
The size of any fine imposed would have to be in proportion to the seriousness and scale of the error. The maximum penalty would be 10 per cent of an organisation's turnover. Fines would be paid to the public purse, the Government's consolidated fund.
The Government hopes the new power will be introduced for next summer's exams subject to a 12-week consultation, conducted by Ofqual, and to legislation. As well as fining for mistakes in papers, Ofqual would be able to impose fines on boards which committed serious breaches of their conditions of recognition.
Currently the ultimate sanction open to Ofqual is to withdraw exam boards' recognition. The watchdog can also withdraw an organisation's right to offer a particular qualification.
Schools Minister Nick Gibb said:
There were significant errors in a number of exam question papers this summer. Pupils work hard for years for their GCSEs and A levels. They do not deserve to be let down by exam boards' mistakes. It is unacceptably poor practice for even one paper to contain an error. But this summer there were numerous errors.

We want to give Ofqual tougher powers so it has a range of sanctions at its disposal and can take action against exam boards who fall short of the high standards students and parents expect. Giving Ofqual the power to fine would provide a powerful incentive to awarding organisations to comply with their regulatory obligations and improve standards.

It would act as a deterrent and send a clear signal to students and the wider public that the exam boards will face consequences where they get things wrong. Ofqual needs to be able to incentivise good practice by awarding organisations and to take appropriate action when things go wrong. Financial penalties would provide an effective and flexible sanction and would act as a very clear deterrent.
Ofqual is investigating the causes of the errors and is due to publish a report by the end of the year.
DfE enquiries
Central newsdesk - for journalists 020 7783 8300
General enquiries - for members of the public 0370 000 2288
Published 7 October 2011