Press release
Nurses, midwives and allied health professionals are offered research training
More research training will be offered to nurses, midwives and allied health professionals thanks to a new strategy that will be launched by Health Secretary Andrew Lansley later today.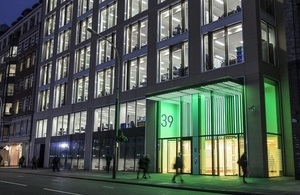 Speaking at the annual Florence Nightingale conference, which will focus on innovations in healthcare, the Health Secretary will set out details of the scheme that will be managed through the National Institute of Health Research.
Healthcare professionals will be funded to do further education in the research field, such as Masters degrees and PhDs or to spend time doing internships so they can gain experience in using research to improve care.
The aim is to put research at the heart of frontline services and make NHS staff some of the best trained in the world.
Today there are almost 500,000 nurses, midwives and allied health professionals working across such areas as school nursing, critical care, paediatrics, rehabilitation and maternity yet only a fraction of these are active in research.
Successful applicants will be able to develop research projects that inform the care they deliver for patients on a daily basis.  Once qualified, the nurses, midwives and allied health professionals (AHP) will use their research to inform day-to-day duties and ensure these practices are adopted in other hospitals and clinics.
Health Secretary Andrew Lansley said:
"The UK has an enviable track record in making new discoveries and developing new treatments.
"This strategy will help the nurses, midwives and allied health professionals develop their research skills and to maintain our global position as a centre of scientific excellence.
"Often it is those with first hand knowledge of caring for patients who can apply their skills in improving patient care. This is about investing in our nurses, midwives and allied health professionals so they are able to offer the best care possible and make the NHS even better."
The scheme will help people like Dr Gillian Chumbley who is a consultant in pain service at Imperial College Healthcare NHS Trust. Through an National Institute of Health Research clinical lectureship research grant, Gillian has been working on better pain management of patients undergoing throat surgery and aims to develop a clinical nursing research unit within the pain service.
Talking about her work, Gillian said:
"A clinical academic career allows me to pursue my research interests, whilst honing my clinical skills; it keeps me in close contact with patients.
"I would like my team to be recognised not only for the excellent pain management that they provide, but also for important research that we plan to conduct to improve patient outcomes. This will hopefully inspire other nurses to develop research in their clinical area."
Professor Jessica Corner, Vice-Chair, Council of Deans of Health said:
"The Council of Deans of Health welcomes the publication of the Clinical Academic Careers Training Pathway Strategy as an important step forward in supporting more nurses, midwives and AHPs to move into successful clinical academic careers.
"Clinical academics in these disciplines play a pivotal role in the NHS: their evidence-based teaching and work in practice has a direct impact on the NHS, spreading innovation, improving care standards, improving health outcomes and increasing cost effectiveness.
"At a time when the NHS is under increasing pressure, the CACTP strategy will help us move towards the critical mass of nursing, midwifery andAHPclinical academics that we need to support high quality patient care."
Notes to editors
For further information contact the Department of Health newsdesk on 020 7210 5221.
'Developing the Role of the Clinical Academic Researcher in the Nursing, Midwifery and Allied Health Professions' report can be found on the Department of Health website.
The National Institute for Health Research (NIHR) commissions leading-edge scientific research focused on improving quality and patient outcomes, and supporting decisions about service investment and disinvestment. It plays a critical role in the development of better approaches, which lead to improved health outcomes.
Health Education England is to be established as a new national body responsible for workforce planning and education and training in the NHS and public health system. The key purpose of HEE is to ensure that the healthcare workforce has the right skills, behaviours and training, and is available in the right numbers to support the delivery of healthcare and health improvement.
Health Education England will provide a focus on education and training that we have not had before. It will provide national leadership on planning and developing the workforce; promote high quality education and training responsive to the changing needs of patients and local communities, authorise and support the development of Local Education and Training Boards and allocate and be accountable for NHS education and training resources and the outcomes achieved. 
In its role, HEE will be responsible for the future clinical academic careers programme. The strategy for clinical academic careers being announced provides clarity and a strategic vision for taking forward this programme of work. It will provide a sound base which HEE can take forward to develop this important piece of workforce investment.
The allied health professions are: art therapists, dramatherapists, music therapists, chiropodists/podiatrists, dietitians, occupational therapists, orthoptists, prosthetists and orthotists, paramedics, physiotherapists, diagnostic radiographers, therapeutic radiographers, speech and language therapists
Published 8 March 2012