Number of new homes keeps rising - highest annual increase since 2008
Greg Clark welcomes the latest figures showing the country is building again.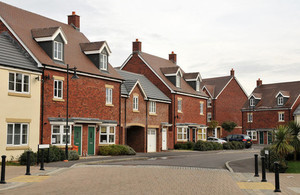 186,000 more homes this year
over 753,000 additional homes since 2010
highest annual increase in homes since 2008
Greg Clark today (20 November 2015) welcomed the latest figures showing the country is building again, with 753,000 new homes provided since 2010.
The Communities Secretary said that these figures demonstrated how the government's actions to reform the planning system and put power in the hands of local people were working.
Today's figures reveal there were an additional 186,000 new homes provided in the year to September - the highest annual increase since 2008. This takes the total increase since 2010 to 753,000.
Communities Secretary Greg Clark said:
By reforming the planning system and putting power back into the hands of communities, we're giving residents the opportunity to have their voice heard over how their local area is developed.

This is a far cry from the top-down bureaucracy of the past that left residents feeling powerless over how their local area was developed, with housebuilding levels reaching their lowest since the 1920's.

We're getting Britain building again and working our way towards our ambition to build a million new homes by 2020.
Getting Britain Building
The government is currently moving ahead with its landmark Housing and Planning Bill, which will give an extra million people the chance to achieve their dream of home ownership.
Measures include:
new affordable Starter Homes – a new legal duty will be placed on councils to guarantee the delivery of Starter Homes on all reasonably sized new development sites, and to promote the delivery of Starter Homes in their area
permission in principle for sites identified in plans and brownfield registers – to give certainty around the sites that are suitable for housing, while protecting the green belt
planning reforms to support small builders – requiring councils to ensure they have permission shovel ready plots to match the local demand for custom build
Further information
The figures on additional homes shown by today's council tax statistics are consistent with the housing supply figures in the Net supply of housing statistics release published on 12 November 2015.
Office address and general enquiries
2 Marsham Street
London
SW1P 4DF
Contact form https://forms.communit...
General enquiries: please use this number if you are a member of the public 030 3444 0000
If your enquiry is related to COVID-19 please check our guidance page first before you contact us - https://www.gov.uk/guidance/coronavirus-covid-19-guidance-for-local-government.

If you still need to contact us please use the contact form above to get in touch, because of coronavirus (COVID-19). If you send it by post it will not receive a reply within normal timescale.
Published 20 November 2015