Press release
Nottinghamshire man fined £10,000 for waste offences
Yesterday (Thursday 15 May 2014), Jason Marshall, of Hodgkinson Road, Kirby-in-Ashfield pleaded guilty at Mansfield Magistrates' Court to waste offences.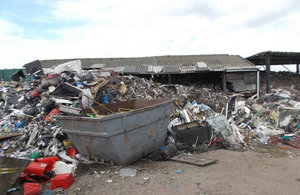 The six charges relate to the mismanagement of a site on Wigwam Lane, Hucknall and the unlawful storage of waste in the back yard of his home address.
The 45-year-old was fined £10,000, ordered to pay prosecution costs of £8042.81, along with a £120 victim surcharge.
The charge was brought by the Environment Agency contrary to Regulation 38(2), 38(3), 38(1)(a) and 12(1) of the Environmental Permitting (England and Wales) Regulations 2010.
On 5 February 2013, Environment Agency staff and a member of the planning team from Nottinghamshire County Council conducted a site inspection at Wigwam Lane in Huckall. The site contained mixed waste estimated to be between 500 and 1000 tonnes, far exceeding the maximum 50 tonne storage limit allowed by Jason Marshall's permit. Waste was stored all over the site including in uncovered areas, contrary to the permit conditions.
The officers spoke to Mr Marshall and it was agreed that two months was a reasonable deadline to bring the waste levels down. A Notice was served on 28 February giving Mr Marshall a deadline of 1 May 2013 to reduce waste levels and repair the roof of the waste transfer building as it was in a poor state.
In May a visit to the site noted some reduction in waste quantities but there was at least 200 tonnes still remaining and the Environment Agency had concerns that, given the lack of engineered drainage on the site, there was a danger of run-off arising. The site still clearly exceeded the maximum 50 tonne limit allowed by the permit. The defendant was advised by officers that the notice had not been complied with.
Further visits to the site found very little improvement, with waste continuing to exceed the allowable limits. There were also rats observed on the site.
On 9 July 2013, Environment Agency officers involved visited Mr Marshall's home address. In the yard they noted four skips containing mixed construction and demolition waste, including hedge cuttings, plasterboard, broken tiles, broken furniture and wire. Other waste materials on the ground included a bed-base, a door, gas canisters, tyres and vehicles. The waste had been put there as part of the operations from the Wigwam Lane site, meaning the waste was stored illegally without an appropriate environmental permit.
Speaking after the case, an Environment Agency officer in charge of the investigation said:
Illegal waste sites have the potential to cause serious pollution incidents or harm human health. This prosecution demonstrates that we take waste crime very seriously and will not hesitate to prosecute if necessary, to protect the environment and local communities.
In mitigation, the court was told that the company made full admissions when attending an interview under caution and submitted early guilty pleas.
Published 16 May 2014