News story
Norway to provide staff and equipment for Ebola centres
Justine Greening welcomes a vital contribution from Norway to support UK's efforts to end Ebola in Sierra Leone.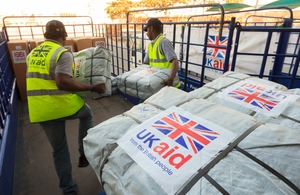 International Development Secretary Justine Greening said: "I am very pleased that Norway has agreed to provide up to 200 health workers and vital technical equipment for the UK's Ebola Treatment Centre in Moyamba.
"This generous contribution will help to support the UK's efforts to defeat Ebola in Sierra Leone and we look forward to working closely with the Norwegians in the coming weeks and months.
"I hope that this agreement with Norway will encourage other countries to scale-up their commitments on the staff and infrastructure that are so essential to the fight against Ebola."
Published 1 November 2014