News story
Northern Ireland Secretary in talks with US Secretary of State
The Secretary of State for Northern Ireland is in Washington to meet senior politicians and business leaders during the annual Saint Patrick's celebrations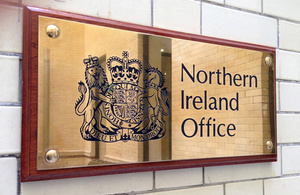 The Secretary of State for Northern Ireland, Theresa Villiers today met the US Secretary of State, John Kerry for talks at the State Department in Washington DC. Ms Villiers took the opportunity to brief Secretary Kerry on recent developments and highlight a number of key challenges facing Northern Ireland.
Speaking after the meeting, Ms Villiers said:
I very much welcome this early opportunity to brief Secretary of State Kerry so soon after his appointment by President Obama. We had a very constructive and focused discussion about the current situation in Northern Ireland and the challenges and opportunities that lie ahead.
As we approach the 15th anniversary of the Belfast Agreement, we both recognised the huge progress that Northern Ireland has seen over recent years. But we also acknowledged that there is still a great deal of work to do as we strive towards our goal of a peaceful, stable and prosperous society.
At the top of our agenda was the ongoing security situation, recent disturbances, the need to rebalance economy, and the urgency of introducing measures designed to build a genuinely shared and cohesive future for everyone. I was pleased that Secretary Kerry agreed with importance that both the UK Government and the Northern Ireland Executive attach to this.
We also discussed the forthcoming G8 summit in County Fermanagh in June. We agreed that in addition to tackling pressing global issues, the G8 provides a unique chance to present Northern Ireland on the world stage as a modern, confident and outward-looking society that's also a great place to invest in and do business. And I reiterated the Prime Minister's determination to deliver a safe, secure and successful summit.
I thanked Secretary Kerry for the important role that successive US administrations have played over the years in helping to move Northern Ireland forward. I am very confident, given Secretary Kerry's longstanding interest and personal commitment, that this positive contribution will continue.
Theresa Villiers is in the United States for the annual Saint Patrick's Day celebrations. She arrived in Washington DC on 17 March and will travel to New York on 20 March. During her visit she will be meeting a number of senior politicians, officials and business representatives with a keen interest in Northern Ireland affairs.
On Tuesday 19 March she will attend the annual 'Friends of Ireland' lunch hosted by House of Representatives' Speaker John Boehner, at which the keynote speakers are expected to be President Obama and the Taoiseach Enda Kenny. Afterwards she will attend a reception at the White House, hosted by the President and an event hosted by the Irish Ambassador in Washington Michael Collins. Ms Villiers will also be at the Northern Ireland business breakfast on Wednesday morning.
While in New York, the Secretary of State will be a guest at the annual Irish America Magazine Hall of Fame lunch, where the keynote speaker is expected to be Vice President Joe Biden. She will also be meeting candidates for the Mayoral elections in New York City.
Published 18 March 2013
Last updated 18 March 2013
+ show all updates
changed headline from caps
First published.