Press release
North West leads applications for Regional Growth Fund
Strong business appetite continues for new £350 million regional growth pot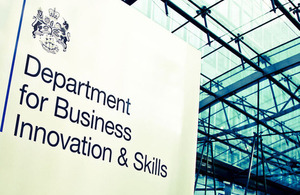 A total of 309 applications are competing for a share of £350 million funding in the fourth round of the Regional Growth Fund (RGF), the government confirmed today.
There is a strong regional spread across England with the most bids coming from the North West region which bid for a total of £315 million via 58 different applications.
The Yorkshire and Humber and South West regions also bid for £239 million and £225 million respectively.
The North West has enjoyed success in previous rounds of the RGF, with companies such as Redx Pharma and Holroyd Precision taking forward important projects to develop their research and development centres in medicine and machine tool design respectively.
The total figure for all of all the Round Four applications combined comes to £1.8 billion which will make the decision process even more challenging for the Independent Advisory Panel, chaired by Lord Heseltine.
The panel will make recommendations to a Ministerial Group, led by Deputy Prime Minister Nick Clegg, which will then make the final decisions as to which proposals should be selected for funding. It is expected that the selected bidders will be announced in the summer.
Deputy Prime Minister Nick Clegg said:
It is great to see so many proposals from companies that want money to move ahead and expand. As in previous rounds of the Regional Growth Fund, this is a competitive process and we will be analysing the proposals carefully before selecting the winning bids- ensuring we put money where it counts, to create or safeguard local jobs for the long term.
I have seen first hand what firms are doing with the money already invested – from household names such as Aston Martin who have brought back the production of the iconic Rapide S to the West Midlands and created job and apprenticeship opportunities – to emerging companies, like Molecular Profiles who built a new pharmaceutical and manufacturing facility in Nottingham, tripling their capacity and increasing their ability to compete internationally – both creating jobs and increasing training opportunities to nurture local talent and boost the local economy.
Business Secretary Vince Cable said:
The high number of applications for the latest Regional Growth Fund round is really encouraging. This fund is creating large numbers of highly skilled and high quality jobs in firms and local communities across the country. The RGF is also supporting key sectors for our industrial strategy such as aerospace, agricultural technology, oil and gas, renewables, nuclear and automotive.
Last week Business Minister Michael Fallon visited G.E. Oil and Gas in Newcastle - an oil and gas flexible pipeline specialist – to announce their Regional Growth Fund award.
The visit coincided with the launch of the Oil and Gas Industrial Strategy by Vince Cable in Aberdeen to help develop the industry supply chain and maintain production from the North Sea.
The company was awarded £3 million through the Regional Growth Fund to increase its manufacturing capability and build on its leading offshore research role for liquefied natural gas market. This will create over 120 new jobs and safeguard over 80 existing posts.
Business and Energy Minister Michael Fallon said:
The Regional Growth Fund is motoring ahead. Across the country it is helping businesses to do great things for our economy – whether that's hiring more skilled engineers or building new plant and machinery to compete abroad.
Last week at G.E. Oil and Gas I saw its impact first hand. Their subsea pipelines project will help increase their manufacturing capability, create 120 new jobs and help maintain their dominant position in the global market. Energy is an important driver of growth and the Regional Growth Fund is unlocking important investment and jobs in the sector.
Bruce Heppenstall, General Manager of Wellstream Flexibles Newcastle Site at GE Oil & Gas said:
The Regional Growth Fund will help GE investment to increase the competitiveness of its Wellstream Flexibles manufacturing facility and meet the growing demands of the global offshore oil & gas industry.
The Regional Growth Fund is a competitive process. Only those bids that offer the best value for the public purse – those that create jobs and attract private sector investment – will be supported. There is a range of other government support available online at https://www.gov.uk/business-finance-support-finder.
Notes to editors
1.The provisional data split by region is as follows:
| Region | Programmes | Projects | Total | % of all projects and programmes | £Ask (million) | % of all ask |
| --- | --- | --- | --- | --- | --- | --- |
| North West | 16 | 42 | 58 | 19% | £316 | 17% |
| South East | 12 | 29 | 41 | 13% | £183 | 10% |
| Yorkshire and Humber | 9 | 30 | 39 | 13% | £239 | 13% |
| West Midlands | 9 | 28 | 37 | 1 2% | £176 | 9% |
| South West | 7 | 24 | 31 | 10% | £225 | 12% |
| North East | 5 | 26 | 31 | 10% | £215 | 11% |
| East Midlands | 10 | 19 | 29 | 9% | £162 | 9% |
| Nationwide | 17 | 7 | 24 | 8% | £293 | 1 6% |
| East of England | 2 | 11 | 13 | 4% | £47 | 3% |
| London | 1 | 5 | 6 | 2% | £32 | 2% |
| Total | 88 | 221 | 309 |   | £1,880 |   |
2.All the bids received in the fourth round of the Regional Growth Fund are commercially sensitive and it is not possible to publish the names of the bidders or details of the proposals.
3.For more information on the Regional Growth Fund, including case studies please visit https://www.gov.uk/understanding-the-regional-growth-fund
4.For Round Four the timings will be the same as Round Three so that the terms of a conditional offer must be agreed within three months of the announcement, and bidders then have a further three months to complete due diligence. They will then sign a final offer. If the process takes longer than six months, the government reserves the right to withdraw the offer of funding.
5.The government's economic policy objective is to achieve 'strong, sustainable and balanced growth that is more evenly shared across the country and between industries'. It set four ambitions in the 'Plan for Growth' (PDF 1.7MB), published at Budget 2011:
to create the most competitive tax system in the G20
to make the UK the best place in Europe to start, finance and grow a business
to encourage investment and exports as a route to a more balanced economy
to create a more educated workforce that is the most flexible in Europe.
Work is underway across government to achieve these ambitions, including progress on more than 250 measures as part of the Growth Review. Developing an Industrial Strategy gives new impetus to this work by providing businesses, investors and the public with more clarity about the long-term direction in which the government wants the economy to travel.
Published 5 April 2013