Norman Foster's 'modern classic' Sainsbury Centre is listed II* by Heritage Minister Ed Vaizey
The multi award-winning Sainsbury Centre at the University of East Anglia became a Grade II* listed building today, following a decision by…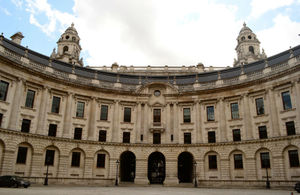 The building, which opened in 1977, is by Norman Foster, one of Britain's most distinguished modern architects and houses the art collection of Lord and Lady Sainsbury.
Ed Vaizey's decision to list it follows expert advice from English Heritage who cited its architectural innovation, design, historic association, flexibility and group value as reasons for the II* grading.
Ed Vaizey said: "Norman Foster's design for the Sainsbury Centre is recognised around the world as a high point of the British 'high-tech' movement and, by any standards, a modern classic.  As well as standing comparison with any late 20th century building anywhere in the world, it is also superbly fit for purpose, thanks to innovative engineering coming together with very fine design."
Roger Bowdler, Designation Director for English Heritage added: "We are pleased that the Sainsbury Centre at the University of East Anglia has been listed at Grade ll* following our recommendation. It is an internationally acclaimed work of late-twentieth century, high-tech architecture, designed by Fosters to house and deftly display the world class Sainsbury collection. The centre sits in the extraordinary context of the University of East Anglia campus, alongside the listed buildings of Denys Lasdun's 1960s scheme.  Listing will not interfere with the centre's continued flexible use, and the University of East Anglia has set an example over a number of years of how the listed modern buildings in its care can be sympathetically managed."
Lord Foster commented: "My first meeting with Sir Robert and Lady Sainsbury was around this time of year, almost forty years ago. On the morning of New Year's Day, 1974 I arrived for what I was told would be a brief meeting about a possible museum project - little did I know the extent to which that meeting would influence my future as an architect and also my personal life.
"A building is only as good as its client and the architecture of the Sainsbury Centre is inseparable from the enlightenment and the driving force of the Sainsburys themselves and the support of the University of East Anglia.  I am delighted that the significance of the museum that we created together has been recognised by this listing."
Notes to Editors
A copy of the advice from English Heritage is available from the English Heritage press office on 020 7973 3855.
Press Enquiries: 020 7211 2210
Out of hours telephone pager no: 07699 751153
Public Enquiries: 020 7211 6000
Published 21 December 2012